Egyptian Princess Costume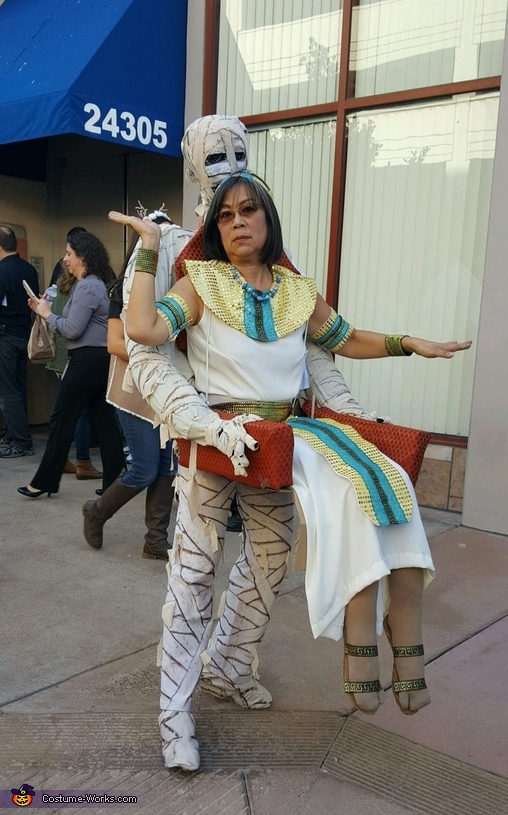 Egyptian Princess
More views:
(click to enlarge)
A word from Ruth, the 'Egyptian Princess' costume creator:
I have been creating my own halloween costumes for the past 6 years. Each year, my unconventional halloween costume was a project that my 2 kids and I worked on. It was my way of teaching them project planning in a fun way. We come up with a concept; not just an outfit. Then, brainstorm on the design that fits our $20.00 budget and timeline.Then they help me with some sort of choreography when it is finally done.

The kids are now adults and busy with their own activities. Without their help, I thought of just making a regular, simple, inexpensive halloween outfit...an Egyptian Princess. I had the right haircut so I didn't need to buy a wig. For the white dress, I found the material with a width of 60" for $1.50 a yard. I always buy more than what I need when I find a bargain so I decided to buy 4 yards of which only ended up using 2 yards of. I looked online for Cleopatra costumes to give me an idea of how to embellish my white dress. Using left over materials from previous projects, I created the headpiece, armor, bracelet, necklace and belt. I even tried to create cobra snake head using play doh but it ended up too heavy for the headpiece. I was very excited to show the kids my Egyptian Princess costume that cost less than $6.00 to make!

Two weeks before Halloween, I did a runway walk to show off my creation to the kids. One of them said, "Mom, that's lame. This is way below the bar of your previous costumes." while the other asked, "Where's the rest of the costume?" I said, "This is it." In my mind, I totally hit my target based on my concept of regular,simple,and inexpensive costume.

The next day, when I got home from work, between the two of them, challenged me with an improvement on my costume. It was a great idea but with less than 2 weeks before halloween and without their help, there was no way I can pull this concept through.

That Friday was my day off but I had plan to work the 3 day weekend from home to catch up with my projects. As fate would have it, I could not remotely connect my laptop with the server at work. Before my son left for work that day, he suggested to work on my costume instead. By the time he came home, I had created 3 versions of which the first 2 were not acceptable. The first looked like I was carrying a half mummy while the second had a huge bump on the butt.

How did I end up making the final version? I had to find a way to use light weight materials so I will not be burdened with its weight while walking around town. I used left over PVC pipes, balloon, lots of plastic grocery bags, 2 nettings from when I bought 3 melons from Costco, 2xl long sleeved shirt and a matching pants from Walmart for $5.97 each, a pair of old gloves, a mummy mask from 99 cents only store, left over elastic, velcro, ropes, glue, scissors, black duct tape, black and brown permanent markers.

With left over PVC pipes, i created the frame for the torso and neck. I had an old square balloon which I used to fill the frame. For the arms, i filled plastic nettings with plastic grocery bags. For hands, I filled black gloves with paper towel. For the head, i created a ball of black plastic bags. Then with black duct tape, I attached this to the mummy mask. I made the throne with cardboard and wrapped it with left over upholstery material. Since i had no time to wrap bandage, i used sharpie to create a bandage illusion. With scraps of beige materials, i glued strips around the top and bottom. For legs, i used old tights and filled it plastic grocery bags, glued black ribbon for straps and cardboard for shoe bottom.

I was able to finish the "structure" of the costume during that weekend but because i could no longer work on the costume to finish it on time, the kids jumped in to 'wrap bandage' all over using markers and scrap beige cloth cut in strips. After all, they are used to helping me with my costumes. And yes, they also showed me how to do the Egyptian dance moves while walking like a mummy.

This was one of the quickly put-together costumes we've ever made and one I totally enjoyed showing off!