The Hunger Games Effie Trinket Costume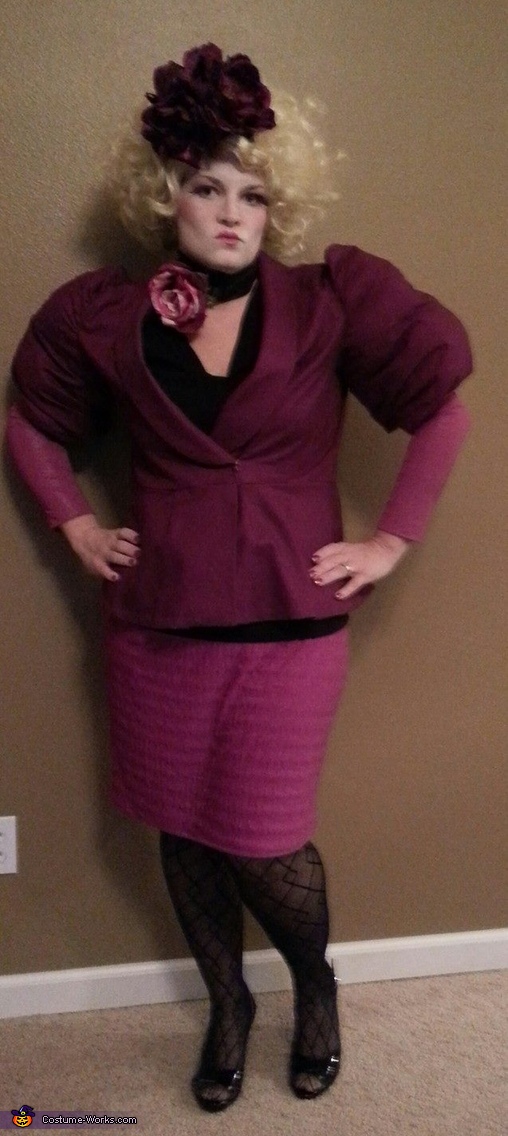 May the Odd be ever in your Favor
More views:
(click to enlarge)
A word from Ann, the 'Effie Trinket' costume creator:
My family and I enjoy watching and reading the Hunger Games. As an adult I have never dressed up for Halloween. I was going to attend a Halloween Party for Exchange Students and wanted to make sure it was something International that teenagers would appreciate. I also wanted to theme it with my husband and son. My husband was President Snow and my son was Peeta. With the upcoming release of the next movie we thought it would be fun timing. Effie Trinket's personality also reminded me of a character I feel I play almost daily in my job as do many other. In our jobs so many times we are a puppet to our owners. We many times act chipper and full of happiness. If you work in a service industry you many times need to be Effie. I however lack the manners and I wouldn't consider myself an airhead but did manage to pull off this costume with grace and dignity.

To make this costume I first had to come up with a pattern. I spent hours searching the internet to find a dress that I could make sense I had no sewing experience. I decided this deep purple dress could be done with help. I found the material first. The material for the skirt needed to be different then the top however I could not find the exact material shown in pictures. However, I was in luck when it came to the the jacket. The material I found was spot on. I enlisted the help of my mom. My mom loves to sew and has been trying for 25 years to get me to sew. It really isn't my thing because I don't have the patience. However, I knew if I wanted her to help me with this project I needed to do some of the sewing myself. We went to the fabric store to find a pattern. This was the touch part because there was not going to be an exact pattern to match this outfit. We found 4 separate patterns and ! ended up piecing it all together. My mom was so excited that I was FINALLY going to sew. In the meantime I found a wig online and ordered it. It seemed like it took forever to arrive. I searched 4 different stores to find the flower to go on the wig. I ended up pieces three flowers together and attaching them to the wig to make it look big enough. My mom and I met and sewed together for hours on end. It was a great bonding experience. She was excited that after we made the skirt and the jacket she was able to find a black shirt in her closet that went well with costume. I made sure to paint my nails to match perfectly and after three attempts I believe the makeup turned out well. In the end there was a last minute trip to the craft store for the flower to go around my neck. I had the shoes and nylons in my closed. The last thing I needed was earrings. I struggled finding the perfect earrings. I remember I had some old costume jewelry from my grandma and located some matching clip on earring that after that night swore I would never were again.

I had a business dinner with some co-workers that flew in that day and it was directly before the Halloween Party. I did not have a choice but to wear this load and crazy costume to dinner. It was stepping out of my comfort zone but I got the most amazing smiles. Smiles that were different then I was used to. Genuine smiles. Not that polite smiles but real "that makes me happy" smiles. I have never had so many strangers talk to me in my entire life. Everyone that approached me said "that costume is perfect" or "you look amazing" or "did you make that". The most common comment I received from people was "May the odds be ever in your favor". Let's hope that true!