Edward Scissorhands Costume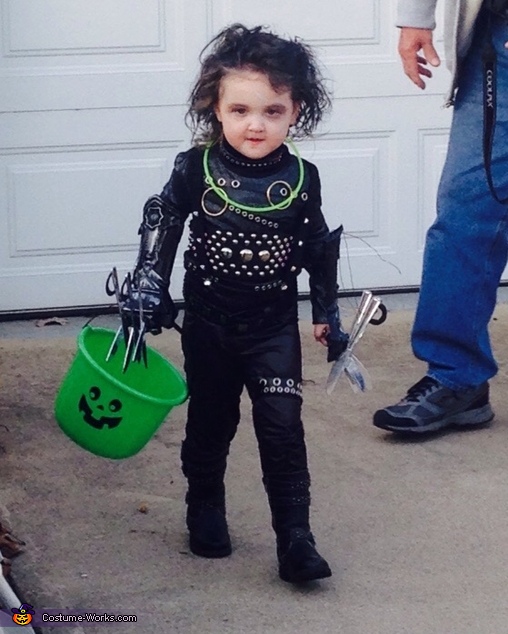 On a mission
More views:
(click to enlarge)
A word from Mackenzie, the 'Edward Scissorhands' costume creator:
Scout, my sweet little 2 year old has an obsession with 'Monsers.' Her older sister was watching Edward Scissorhands and quickly, Scout became infatuated with the character.
When I first mentioned that I was going to make the costume to my husband he was definitely hesitant. He was hoping for a butterfly costume or some Disney princess for his little girl. However, after persuasion from both Scout and I, he caved.
I began looking in stores for anything pleather that I could use to pull off the top and bottom clothing. I was luckily successful in finding pleather pants and a pleather-esque shirt from Walmart. From there, I went to the Gpodwill atleast weekly in hopes of finding studded belts.I started collecting belts. With belts and a hot glue gun the shirt just came together.
Luckily, my husband accepted the challenge of the hands. I went to a dollar store and found some armor play hands and chrome silverware. From there, he glued the knives together to make scissors and attached cables. I sprayed her blonde hair black and applied a little foundation and eyeshadow. I was very pleased with her costume. I didn't see any other kids dressed like her.