Easy Mac Costumes!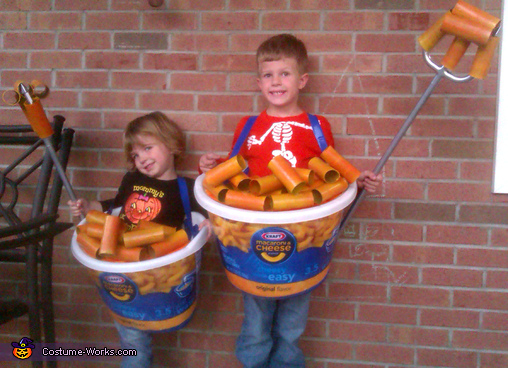 we are ready for some fun!!
More views:
(click to enlarge)
A word from Jessica, the 'Easy Mac' costume creator:
My son, Hunter, is six years old and he loves Easy Mac. Hence he chose it for his costume, my daughter, Leah, who is three, also decided to be the same! I wrapped felt around a laundry basket and had the easy mac lable blown up at a local print shop. We pained toilet paper tubes with orange and yellow spray paint, which gave them a glossy look. The forks were from the dollar store and were devils pitchforks, which we spray painted silver to lookl lilke a fork and then glued on the "macaronis". I used foam board to go from the edge of the basket to their belly and painted it a cheesy color as well. Then we glued it all together and voila! I also made straps to hold it up for them! They are thrilled with their costumes!