Dumb & Dumber, Harry & Lloyd "Frozen Pee Mini Bike Scene" Costume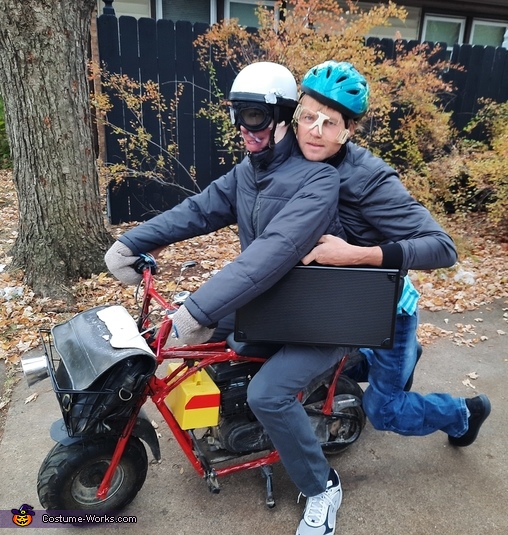 Dumb & Dumber, Harry & Lloyd "Frozen Pee Mini Bike Scene"
More views:
(click to enlarge)
A word from Jamey, the 'Dumb & Dumber, Harry & Lloyd' costume creator:
Halloween is my favorite holiday and I just love being creative and coming up with funny & unique costumes. I don't remember when the light bulb went off in my head to recreate the Dumb & Dumber "Frozen Pee Mini Bike Scene" but I'm glad it did cause I think I "Totally Redeemed Myself".

I took this one very seriously and might have taken the attention to detail a bit too far. It took weeks and a couple hundred dollars to find all the stuff and build it. I was lucky my friends had a working mini bike I could use although it was black so I used red tape to make it red. Added the yellow toolbox, bike bell, mirror, streamers, basket, headlamp, bag and even added snow to the top of it!

I found the exact gloves for Lloyd and thanks to the covid-19 pandemic there was even a Lloyd Christmas mask for sale online with the missing tooth! Bought a briefcase and stuffed it full of I.O.U.'s and painted a vintage helmet white. Got goggles for both Harry & Lloyd and the rest of the clothes, then it was time to put it all together.

I had no idea how I would make it so I just started playing around with foam swim noodles and realized it would need to be stronger so I reinforced them with PVC pipes. I would zip tie everything to my belt and used lots of Velcro to make things stay in place. Put the final touches on everything like the snot on their faces and it was complete.

Memorized a couple lines from the movie and hit the road. First stop was the Harley Davidson dealer in Blaine, MN. They had a costume contest and let me ride it right inside. I won first place and a gift card!

The next place was The Lookout Bar & Grill who had a tent party with live music. The last place was the Route 47 Pub & Grub who had a huge costume contest. The place was packed with so many good costumes there and I didn't think I would win. The owners let me ride the mini bike around inside and onstage which was awesome. I somehow was lucky to win 1st place and a gift card!

Turned out to be a great day and I had so much fun. All the hard work paid off and I loved making people smile. Hope ya'll had a magical Halloween and remember that life is all about Love & Laughter!
www.TheUnicyclingUnicorn.com