Duck Dynasty Family Costume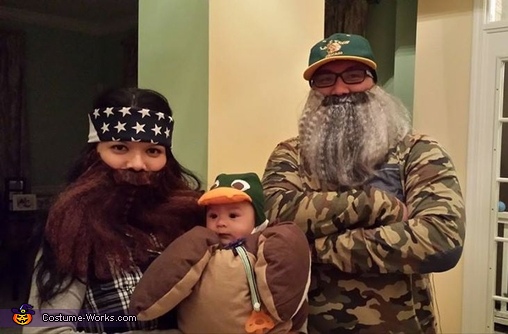 Duck hunting with Willie and Uncle Si
A word from Jacqueline, the 'Duck Dynasty' costume creator:
Willie Robertson: Jacqueline Mariquina (mom)
Uncle Si: Jason Mariquina (dad)
Mallard Duck: Jaiden Mariquina (baby)

We love the show Duck Dynasty and my husband thought it would be a great family costume idea. After much debate, we settled on having Jaiden dress up as a duck. After all, how can we be successful duck hunters without a duck to prove it?

We bought the beard and bandanna and bought camouflage/plaid shirts to complete the theme. I handmade the duck costume using several different colors of a soft flannel fabric.

I made the duck costume without any templates since I couldn't find one small enough! So I just measured the baby and guesstimated how much fabric I would need of each color. The most I bought in one color was 1 yeard of brown fabric. The blue was only used for detail on the wings, so I only got 1/8 of a yard.

I cut all the material to the pieces I needed before sewing to minimize mistakes. I sewed the detail things fist on the main front of the fabric, such as the belly, and the wing details on the top of the wing.

When sewing the inner and outer layer together, I had to practice flipping the pieces inside out to make sure I was sewing the right parts. Once I got the layers together, I stuffed it with cotton then sewed the whole thing shut. I added elastic to the bottom edge to give it that rounded look. I added velcro over the shoulder straps for easy off/on.

For the hat, I measured and existing hat and made 2 so that there's an inside/outside layer. I sewed on the eyes before sewing the 2 layers together. The hat ties under his chin.

For teh duck feet, I took a pair of pants and used that as a template, but made it a bit skinnier to be more snug. I added duck footies to the pants by sewing the pieces together.

Sounds complicated, but I worked on it for a few hours each day for a total of 4 days and it's done! One of the easiest costumes I made.