Dry Bones Costume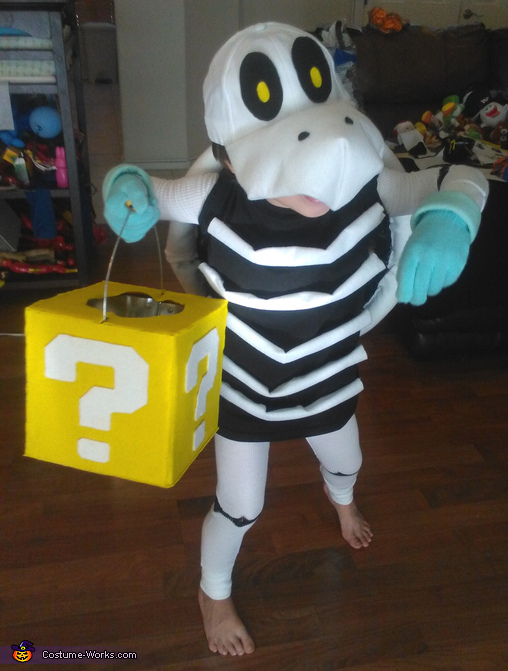 Dry Bones Front
More views:
(click to enlarge)
A word from Amy, the 'Dry Bones' costume creator:
This is my four-year-old son dressed as Dry Bones. Dry Bones is a low level bad guy character from the Super Mario series and you absolutely can't buy a costume of him so it's DIY time!

The How To:
-Cardboard box for the shell size/shape
-Some black fabric (cut about 2 inches larger than the cardboard oval)
-Stuffing inside
-White felt rolled and stuffed around the edges
-Grey felt for the shell details
-Black paint on the cardboard and two black fabric strips for arm straps
-The gloves are children's gloves with some teal felt rolled and stitched onto the wrists
-Shoes are some old shoes with teal felt glued on
-Bucket is made by surrounding a pail with cardboard and gluing on felt for the details
-When you're making a Dry Bones head, your first try will look like a duck. You have to put more felt (and a bit of stuffing) on the bill to make it look more like a top jaw
-The shirt is black with the sleeves cut off and rolled white felt hand stitched to it
-The arms and legs are white long johns with a bit of black paint at the elbows and knees

Everything is held together/attached by glue from my hot glue gun.

The total cost was probably around $30 but mostly from buying the long johns ($10?) and black shirt ($5). The felt was 23 cents per sheet (I used quite a few sheets) and the fabric was less than $2.

If you make and wear this costume, you will get "DRY BONES? THAT'S AWESOME!" yelled at you by about 1 in every 50 people. And it is so worth it. Happy Halloween!