Doo Wop Costume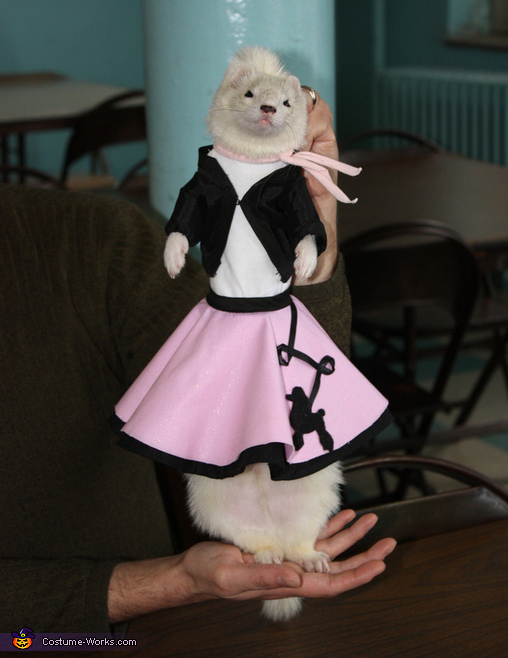 Doo Wop Thursday
A word from Shannon, the 'Doo Wop Ferret' costume creator:
This is our ferret, Thursday. He is a very outgoing ferret as you can see, and he really doesn't mind getting dressed up. Thursday is also very friendly and loves to go on outings. (Just to add..he had to be held up (Scruffed) so that he didn't relax down for the picture. He is not being held like that against his will, nor is he being hurt.)
Why did I make him a Doo Wop outfit...well...I wanted something completely different.
I hand made this costume using various types of material. The shirt was cut from one of my husbands shirts, the poodle skirt is 2 layers of regular cotton material, the poodle is felt, the leash to the poodle is ribbon, the jacket was made out of a glossy synthetic material...I added a hook and eye to the front and the bottom has a pull string to adjust the bottom of the jacket. OH and the scarf is a bit of rolled cotton material. I do not have a pattern, I just use what I can (for example the skirt was measured using a lamp shade and a pot lid)...and I usually just eye the rest.