Dog and Beth Bounty Hunters Costumes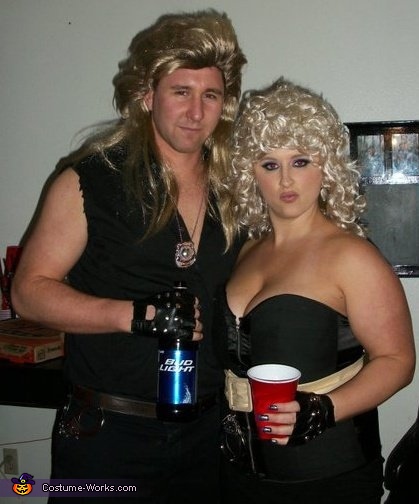 Dog and Beth Bounty Hunters Costumes
More views:
(click to enlarge)
A word from Tiffany, the 'Dog and Beth Bounty Hunters' costume creator:
My boyfriend and I are Dog and Beth from Dog, The Bounty Hunter. My idea came from the show itself. We used to watch it a lot!
My how-to instructions are basically from the show and the internet. I looked up a lot of different photos on how to make it. We bought wigs that looked closely to their hair, used self-tanner, bought Special Forces badges, used clothing from Goodwill, spiked gloves, and I put rolled up t-shirts under my chest to make it look as big as I could! Overall, this was an easy and inexpensive costume to make. I even bought fake press-on nails that had police badges on them.
We had the best costume at the party!