Doctor Who and the Tardis Costume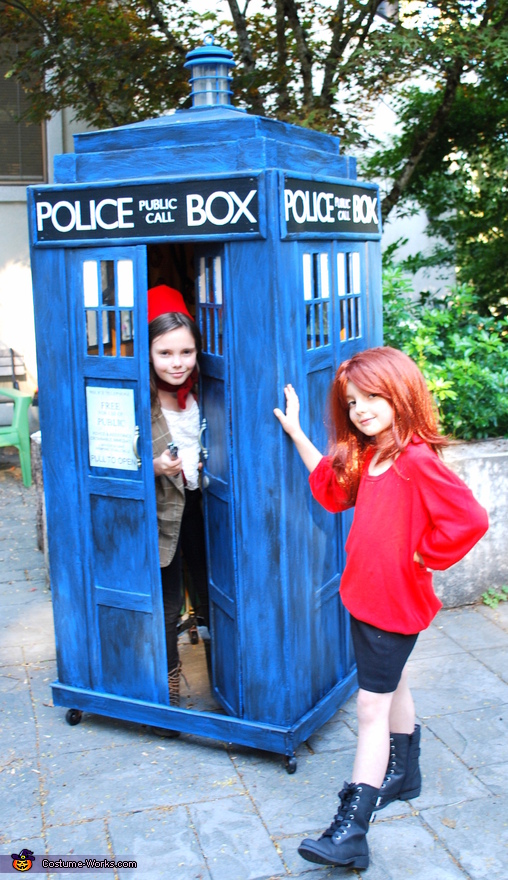 Come along Pond
More views:
(click to enlarge)
A word from Michelle, the 'Doctor Who and the Tardis' costume creator:
Being huge fans of the show, both of my daughters wanted Doctor Who inspired costumes this year. My oldest was determined to be The Doctor, complete with TARDIS! We brainstormed and came up with a fabulous Doctor outfit, easily assembled from trips to the thrift store (a semi-tweed looking jacket, suspenders and boots). We made the bow tie and fez out of felt and, of course, already had a sonic screwdriver (as should every self respecting Whovian <:-) "All" that was left was to make the TARDIS. I figured "what's so hard about making a box". Well, I should have known myself and my daughters a little better. We play this game every year, starting off with a simple thought and ending up going way overboard, but that's where the fun is right? We started to sketch out some plans. She wanted something that she could step out of and we needed it to be lightweight. Luckily, there is an excellent Planet Improvement Center here in Eugene, OR. They sell recycled home improvement items of all types. We were able to construct the inside TARDIS frame with recycled pvc pipes and corner connectors. We also found some recycled blue and black paint, an old pathway light for the top, hinges, screws, scrap plexiglass pieces and even wheels. I had to purchase large sheets of foam board so that it would be as light as possible. This was by far the greatest cost.
I'll save you the agony of our step by step, since many of those steps lead backwards. I'll just say that there was a LOT of gluing, cutting, measuring, painting and duct tape involved. Feel free to leave a comment if you have a question on any particular step. I have included as many photos as possible to help you get the idea. The whole project took us about a month and a half. The total cost was around $150.00. I know that it was not cheap, but it sure was fun <:-)
Insert one Doctor and one Amy Pond:
"So... all of time and space, everything that ever happened or ever will - where do you want to start?"