Doctor Octopus Costume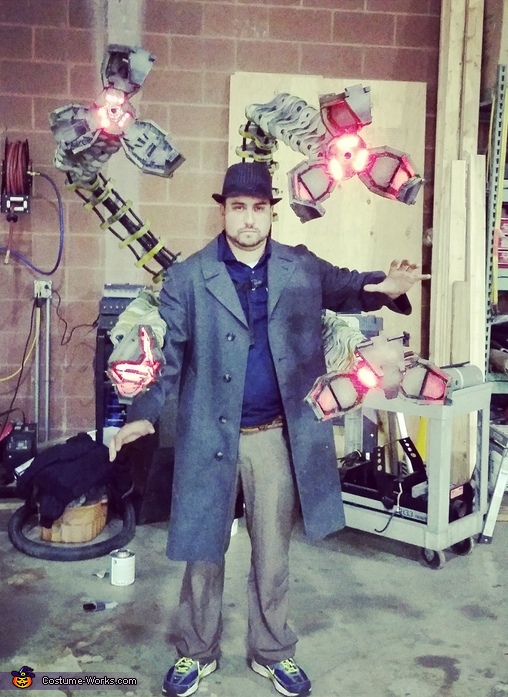 preparing to do some damage to spiderman lol
More views:
(click to enlarge)
A word from Larry, the 'Doctor Octopus' costume creator:
In this photo you will see a picture of me wearing the costume. I was inspired to make this from the original Spiderman 2 film with Tobey Maguire. Although I ran out of time to make the tentacles move, and the pinches open and close, the costume "bounces" when I walk!

There were over 400 Individually hand cut pieces that were hot glued together to create the final project. 90% of the exterior of the costume is made from the floor matting you see in a basement which I got from home Depot. The pipe in the center is a hose from a sub pump while the entire costume is mounted to a wooden base plate that is attached to a backpack under my jacket. It only weighs around 20 lbs in total. The skeleton that holds the tentacles is made from scheduled 40 pvc pipe that I bought and glue to the correct sizes

There are 12 small striped of LEDs that I glued to the entire piece. Only three per arm. I soldered the entire system together and ran the wires down the black tubing and connected it all inside the jacket. The final piece runs to about 8 aaa batteries that are inside my jacket pocket.

In total, this project took about 150 hours to make and around $130. I could of saved a lot of time by casting the pieces rather than cutting each one individually out, but the cost would have increased significantly.

If anyone would like a more detailed version of the build, with some templates for sizes, email me larry86@icloud.com. I will try to answer it as best as I can.

My first large buold. I wore it at a work function and got over 40 pics one night! I am happy with metallic dry brushing technique I used to made it look more realistic.