Disney Pixar Coco Costume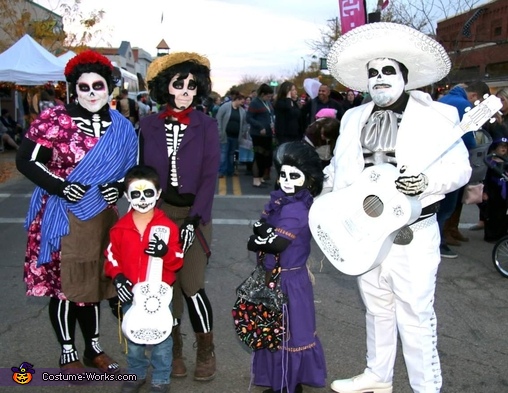 Tia Rosita, Hector, Miguel, Mama Imelda, Ernesto de la Cruz
More views:
(click to enlarge)
A word from Desiree, the 'Disney Pixar Coco' costume creator:
One of the main reasons we picked this movie is because I am addicted to the face paint. Haha! I LOVE how it brings the characters to life especially for the younger kids plus we all really love the movie and since this is the first Halloween since it's release, it seemed the like the perfect choice!

It takes a month or 2 and SEVERAL trips to every second hand store in our area but we really lucked out finding all the pieces we needed to create these costumes

I highly recommend mehron paradise face paint which is what we all have on. Some I had on hand from previous years but ordered an extra black and white just in case. They are about $10 a pallet
All bones were made from my silhouette and ironed on to clothing which added about $20 to overall cost to 4 costumes

Ernesto de la Cruz – cost about $40. I found the suit, shoes, hat, gloves and black shirt at second hand stores. The hat was black and was painted with high gloss trim paint (2 coats at least) all silver glitter detail on this character was done with glitter puffy paint. The guitar was free from craigslist, spray painted and decals cut with a silhouette. Guitar strap is white felt, ribbon and twine. Belt is ribbon and buckle is cardboard wrapped in felt with puffy paint detail. The chest piece is a $1 store chair cover that was cut out and hot glued to the shirt. Bowtie was sewn clearance fabric. I decided to make this costume light up by hot glue-ing sting lights (from amazon) to the inside of the pants and jacket. Then added some white felt over the lights on the inside on the jacket so you can only see them through the fabric

Miguel – costs $5. we had the boots but red hoodie and jeans are second hand. silhouette cut the strips. Easiest costume ever!

Hector – cost $18. Jacket, pants, suspenders, hat, wig, boots, leggings and under shirt all found at second hand stores and each piece was $1 - $3. Neck tie was scrap fabric I had on hand. We cut each item where it needed to be cut with the help from google images.

Mama Imelda – cost $20 and was one of the most challenging for me. we could NOT find a dress that was right so I bought fabric and started from scratch!! The only other thing I have really sewn was my pants from last year so this was a huge step for me. sleeves and neck ruffles… lord help us! And all with NO PATTERN!! Ha! I know I should have found one but I didn't want to spend the money so I googled the sections I was unsure about. It took me several evenings but it turned out perfect (for me) The trim ribbon was the most expensive part of this costume. Wig and undershirt were second hand. Boots we had and necklace I made from pipe cleaners, felt, and beads I had at home. Plastic/vinyl material bought from Walmart to make the apron and twine to tie it on

Tia Rosita – cost $15. Dress, sash fabric, shoes, wig, leggings and undershirt all came from second hand stores. Dress socks, headband and gloves are from the $1 store. Flowers for the headpiece are from Michaels. Apron was used from the same yard of fabric as mama Imelda's costume.

I wasn't sure if I would be able to par with our trolls & bergens from last year but I was very pleased with the outcome of creating Coco characters this year!!