Dick Dastardly and Muttley Costume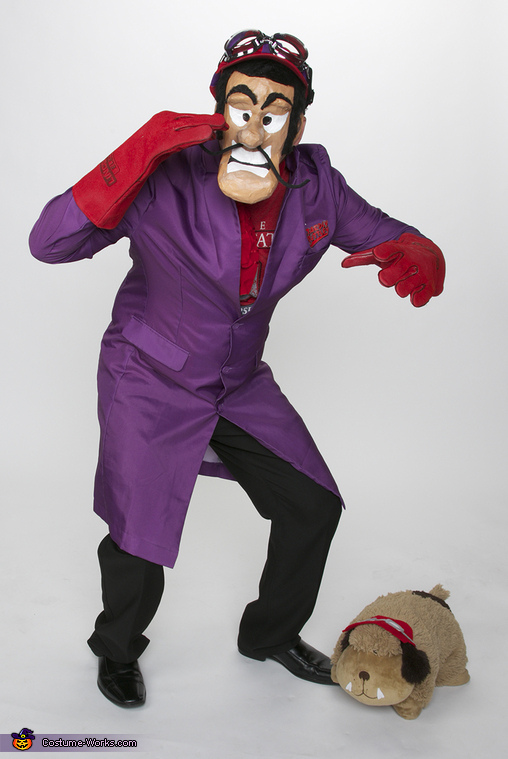 THEY'RE GETTING AWAY!
More views:
(click to enlarge)
A word from Aaron, the 'Dick Dastardly and Muttley' costume creator:
The Halloween party we went to had a hero and villain party theme. So instead of going with a traditional villain, I chose to go with a classic character of Dick Dastardly and side-kick Muttley the dog. Dick Dastardly was made from Thrift store items such as a red scarf and red tee shirt, black dress pants and dress shoes. I ordered actual vintage motorcycle goggles and a red paperboy hat and cut purple triangle shapes and glued to the hat. His gloves were welding gloves that were cheap at local hardware store. The purple trench coat I found at the thrift store and probably was used for Joker or Prince costume. For the mask, I used a foam male head from the craft store, which happened to be the similar in size to my own face. I paper maché 3 layers onto the foam head. Once dry I cut the paper maché off of the head and trimmed down to a size that would cover my face and neck the best, but able to remove. I painted with acrylic paints to give a cartoon like color. The hair is fur fabric from craft store and spray glued to the head. I used a hair trimmer and buzzed down short. I added an elastic band to hold onto my head secure and covered with the hat. My side-kick Muttley is my kids Pillow Pet® which I sewed felt fangs and made a cape out of scrap red felt and tied around his neck. Felt for his goggles too. Worked great! Overall a fun time and always fun to create.