Despicable Me Minion Costume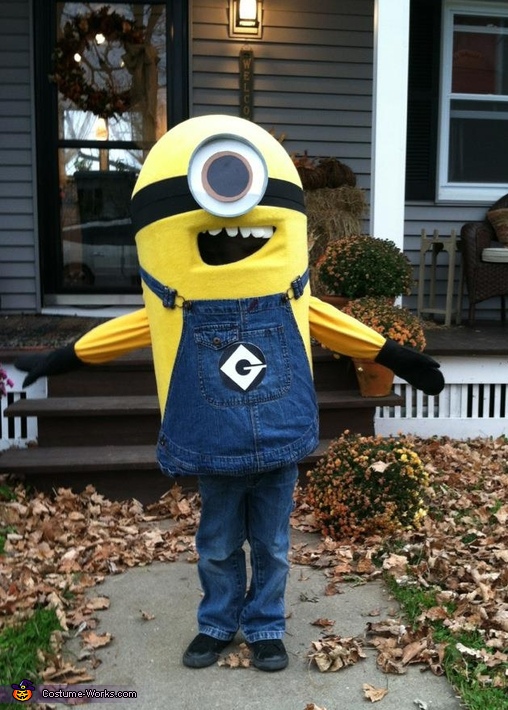 My little minion!
A word from Toby, the 'Despicable Me Minion' costume creator:
Luke is 3 and absolutely loves the minions from Despicable Me! We made the costume by using a round-top garbage can and cutting out the bottom, an area for the mouth (where my son would see from), and arm holes on the sides. We covered the entire can in foam from a camping mat and then covered that in felt. I used elastic for the goggle straps, a plastic plant base for the eye, cut teeth out of paper towels, printed the Gru logo and attached it to the overalls. The mouth is covered in mesh in order to see. I attached suspender straps to the inside of the costume for support.
Step By Step Instructions:
Using a jigsaw, cut out the bottom circle of the trash can so it is completely open. Cut circular holes on either side of the can for the arms. Cut a rectangle hole in the front of the can for the "mouth" (part your child looks through).

Line the entire exterior of the can with the camping pad. The foam pad for thevdome shaped lid had to be pieced together to fit perfectly. I used a glue gun to attach the pad to the can. This is the pad we used. I think I bought two but had a lot extra.

Using a box cutter, cut the foam out to expose the (arm/mouth) holes you made with the jigsaw.

Line the entire can (top and bottom separate pieces) with the yellow fleece. Pull the fleece as tight as you can to eliminate bumps, seams, ripples, etc. I tucked the extra fabric up under the inside of the can and used hot glue and duct tape to secure the fleece. The inside did not look pretty... But it didn't need to!

Cut the fleece out that covers the arm holes and mouth. Tuck the ends in and secure with duct tape/hot glue.

Secure suspenders inside the can using a staple gun. Use thick suspenders so the wide straps set easily on your child's shoulders and support the costume.

Place the overalls (i used maternity overalls in size medium) over the can. Cut extra fabric off that extends below the can and tuck extra fabric up under the costume, securing with duct tape. Your child will wear jeans and a yellow sweatshirt or long sleeved shirt.

Print a Gru logo and attach to overalls.

Make minion eye using a plastic plant base and some different colors of construction paper. Wrap wide elastic straps around costume wear lid meets the base so you can cover the seam. use hot glue to attach eye and secure the ends of elastic together with hot glue.

Cover the "mouth" with black mesh (I used a section of fabric from a collapsible laundry hamper) and make teeth out of paper towel that you cut to resemble minion teeth.