Deadmau5 Costume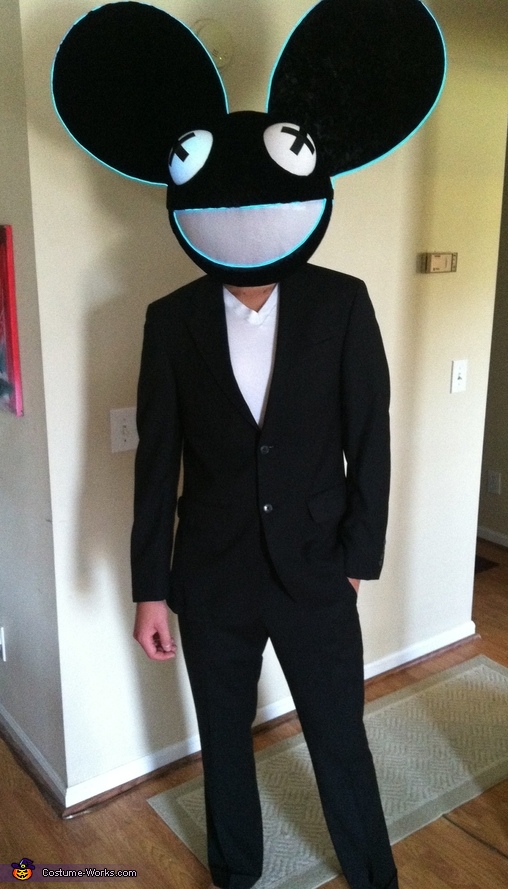 Trying on the costume! Happy Halloween!
More views:
(click to enlarge)
A word from Derek, the 'Deadmau5' costume creator:
The costume I am submitting is my own, and I will be wearing it. If you are unfamiliar with what, or who Deadmau5 is, he is a Canadian music producer/DJ who wears a signature helmet/mask while performing. The idea sparked from a conversation with friends about how many different "heads" he has, and how it would be a wild costume idea for Halloween! (Only if executed correctly of course!) Although it may not be the cheapest/thrown together costume idea out there, I definitely think it will be the only one of its kind for miles!
How to instructions may get kind of wordy (but I have no problem specifically walking anyone through it if they are interested) but I will gladly include the list of materials, and let your creative minds try to put it together!
And of course can't forget a color matched suit!!!
Materials list:
14" hamster ball
2 5" hamster balls
12' of sound activated LED wire
2 multicolored stobes (for eyes)
old white t-shirt (for eye fabric)
2 yards of black 4-way stretch velvet
1" thick styrofoam sheet (for ears)
1 sheet of 8mm thick crafting foam
1 roll electrical tape
1 adjustable hard hat
2 large rolls of gorilla tape
4 bolts, 8 washers, 4 wing nuts
fabric glue
stitch witchery
LOTS of hot glue
14" wire mesh food dome (for mouth)

Video of the lights in action!