Day of the Dead Costumes!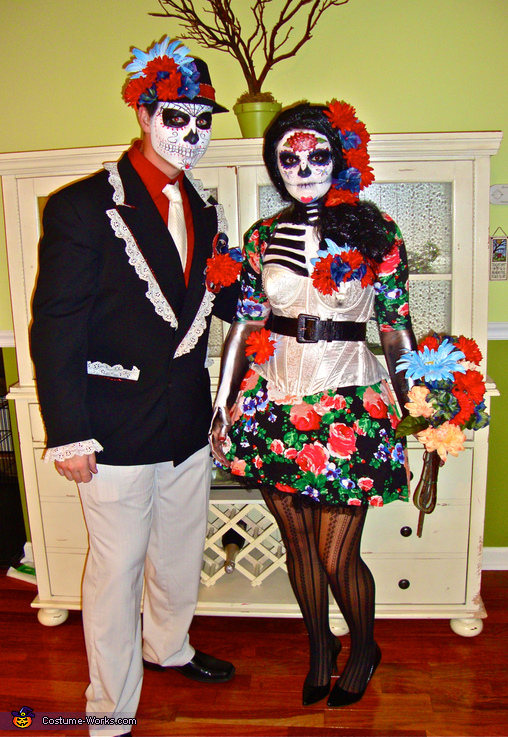 Dia De Los Muertos
More views:
(click to enlarge)
A word from Mara, the 'Day of the Dead Costumes!' costume creator:
The costumes are worn by me and my husband. I was learning about the holiday, Dia De Los Muertos and saw some pictures of the "sugar skull," and thought it would make an amazing Halloween costume.
For my outfit: I used an old dress and put a white corset over top of it. I made a petticoat out of tulle that I bought at the fabric store and sewed it into some material to make it into a skirt. I bought a pair of striped tights. I got silk flowers at the craft store and made them into arrangements on the top, in my wig ($5 from Wal-Mart) and on the skirt.
For my husband: We bought most of the costume from the Salvation Army and Goodwill, great stores to shop at for Halloween!! I hot glued lace into the coat and lined it with red sparkly paint, which you can find at any craft store. I had some old Christmas ribbon that I used on the hat and the boutonniere.
The makeup: The makeup was probably the hardest part. It took a few trial runs and the night of took about 3 hours. People kept asking, "Did you do your husbands makeup and did he do yours?" Nope, all you need is a mirror and a good light, oh and a steady hand helps too! I looked up pictures of a skeleton and then drew in my hands and chest too. I bought translucent setting powder, and this really helped "set" the cream makeup so I could build layers on our faces. It didn't smear all over the place.
Thank you for checking out our costumes. We did everything by hand and on a budget. They are original and unique and have a meaning behind them!