Dante from Dante's Inferno Costume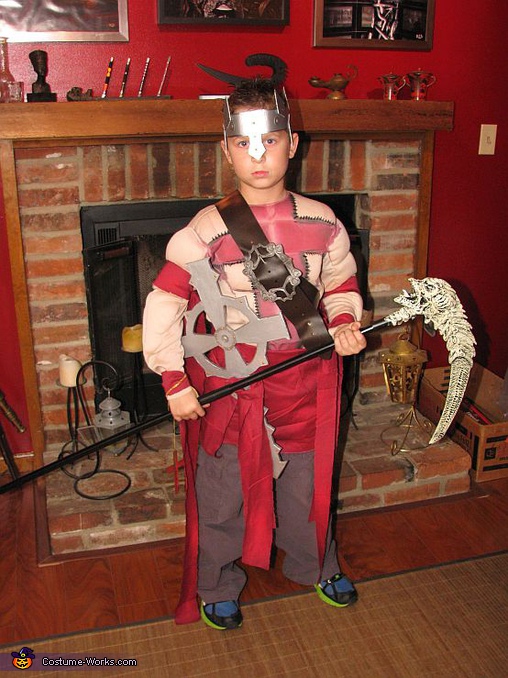 Dante from Dante's Inferno Costume
More views:
(click to enlarge)
A word from Shidoshi, the 'Dante from Dante's Inferno' costume creator:
I made this costume for my son Gabriel who said (after seeing the image of Dante on the cover of the XBox 360 video game) that he wanted to be him for Halloween. Because the game itself is intended for mature audiences, there was clearly no "Dante" costume in his size that I could find anywhere, so I was tasked with having to make it from scratch. Using the image of Dante on the game cover as reference, here's how I did it:
(1) The Cross: This was the first element of the costume that I made. I drew the cross outline on a piece of double-ply cardboard and cut it out with an Xacto blade. I then traced this cross on two pieces of thick cardstock for reinforcement and then used a silicon glue to adhere those pieces to either side of the cardboard cross. I then used wood putty to seal the corrugated edges and interior, trimmed the excess with an Xacto blade and then sanded it down for a uniform look. I used a metallic silver enamel paint for the color and then placed a single dot of metallic gold enamel paint for the "rivet" look. I took a bit of artistic liberty with the painting design and decided to keep it simple.
(2) The Crown: I started by using a cardboard crown that I picked up from Burger King! I sized it to my son's head and then cut off the excess pieces so that I had only a uniformly-sized cardboard band wrapping around the head. I cut the nose guard out of a separate piece of cardboard and folded it over the headband - cutting it to shape. I then used rubber cement to seal the nose guard and set the sizing on the crown. Each "spike" was individually cut out of single-ply cardboard and then painted with a couple different shades of paint to give it a 3D effect (had to notice in these pics). I then used metallic silver and metallic gold paint to create rivets on cardboard "dots" that I cut out separately and then attached to the nose guard with rubber cement.
(3) The Chest Piece: The muscle shirt was purchased from a local Halloween store for $20 and the red stripes were painted on using a burgundy-colored fabric spray that I purchased at a fabric store. The application took a couple coats and was by far the messiest part of the fabrication process, but once it dried out enough to work with, I used a black fabric pen to outline the stripes and then used black "puff" fabric paint to put in the stitches. The belt across the chest is actually from a Captain Jack Sparrow costume my son wore a couple years earlier - but it worked for this one as well.
(4) The Tunic & Red Strips: The tunic and stripes were cut from fabric purchased at a local fabric store for $5. The strips were cut individually and purposefully left ragged for effect and then tied to each wrist and elbow which helped to keep the chest piece in place. The tunic was simply a length of fabric that was tied around his waist and fastened with safety pins.
(5) Extras: The scythe was purchased from a local Halloween store as I simply didn't have the time or the resources to create anything as complex as the one that is seen in the game. I also didn't think anything that large would allow Gabriel the ability to collect his candy as effectively either! I also bought a $3 gold costume cross that wrapped around his hand as well that was as close as I could find to a Roseary – though it didn't last too long into the tick-or-treating foray due to a flimsy gold chain.
All in all, I was pretty satisfied with the results and my son - who loved the costume as well - was able to spend a night out as Dante.