Cute Ewok Costume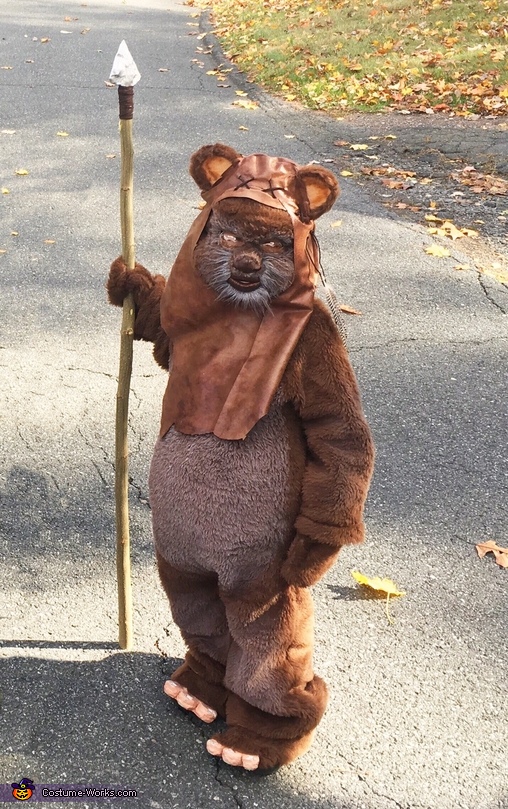 Cute Ewok Costume
More views:
(click to enlarge)
A word from Melissa, the 'Cute Ewok' costume creator:
My kids love Star Wars, and when we were watching Return of the Jedi, my son declared he wanted to be an Ewok for Halloween.

I bought brown fur fabric at a local craft/fabric store, as well as brown pleather. I bought a cheap plastic face mask at the dollar store, some upholstery foam, and sculpey clay. I layered some foam with hot glue on the mask to shape the face more like an Ewok. Covered it with fur. Made lips and a nose out of the sculpey clay, and glued those on the mask. Found clear plastic eyes out of lip gloss packaging. Painted highlights in the fur on the mask for a more realistic look.

I sewed the suit out of the brown fur fabric. Shaped and sewed a hood out of the brown pleather, and added leather string woven, like the Ewoks have, attached feathers to the end. I made wars out of foam, covered them in felt, and fur, and glued them into the hood. I made foot covers out of foam to go over his shoes, covered them in fur, and attached toes made from foam mats that I painted and shaped to look like Ewok toes. Also made mitten out of the fur fabric.

I found a stick in the backyard and trimmed it up. Made an arrowhead out of sculpey Clay, and attacked it to the stick with hot glue, and wrapped it with leather string.

We marched in our local parade and everyone loved his costume and kept yelling out to him how cute he was. He loved his costume.