Cupcake Barbie in a Box Costume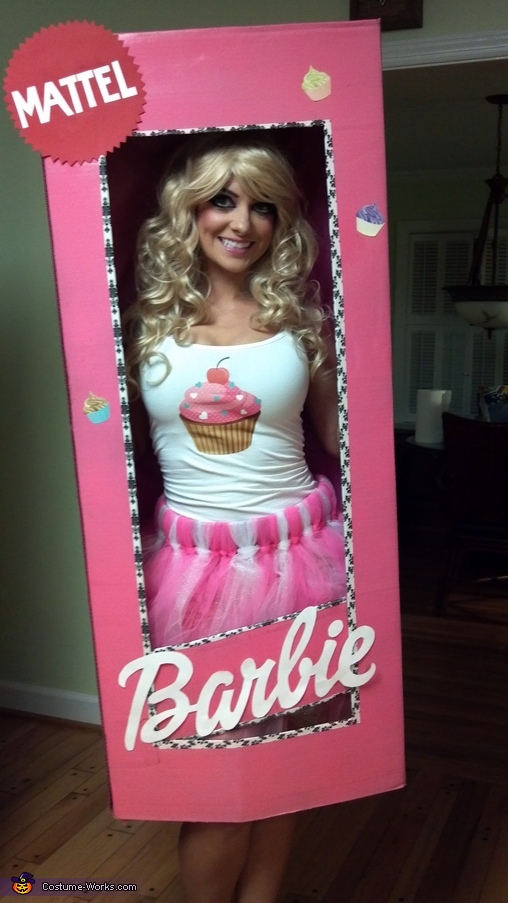 Cupcake Barbie!
More views:
(click to enlarge)
A word from Rachele, the 'Cupcake Barbie' costume creator:
I made this costume from a large cardboard box, a plastic tablecloth, spray paint, decorative tape, craft paper, tulle, a belt, and iron on decals. I've always loved the idea of barbie and when I came across a picture of a girl dressed as a doll in a box (not a barbie), I ran with the idea. After sketching out where the hole looked in proportion on the box, I used a heavy duty box cutter to cut the front and the bottom out. I used Valspar pink spray paint in gloss. (I would recomend doing a white primer coat first). Along the rough cut edges, I used decorative duct tape to make it look finished. Using a piece of the scrap cardboard, I made the name banner and taped it into place. The letters were traced onto printer paper I layed over my tablet, then cut out and traced onto the thick speckled craft paper, then cut out again. The mattel sign was done freehand with scissors out of craft paper. I am obsessed with everything cupcake, so when I saw the iron on decals at the craft store, I had my outfit. I just used a tank top I already had. The skirt was made by tying strips of tulle onto a hot pink belt. Add lots of makeup, climb into your box, and you have a barbie!