Cup Noodles Costume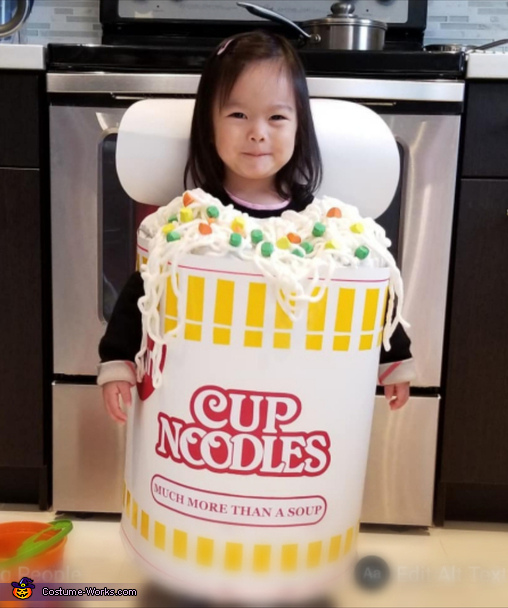 Daddy's Favorite Ramen
More views:
(click to enlarge)
A word from Eddie, the 'Cup Noodles' costume creator:
Costumer wearer: Chloe
Relationship to wearer: Daddy/Daughter

One of daddy's favorite food and snacks growing up is cup noodles (ramen). Ever since I was born, he only craves for me now. So he decided to merge the two of us together and here I present to you my best Halloween costume yet. I would say my dad is a pretty creative guy, and he doesn't want to overspend for a costume that I will only wear for one year. The materials used to make this cute costume are: Foldable laundry basket (as the shell), white Bristol board, yarn, glue gun, yellow tape, and a pack of accessories from dollar store (as the peas and corns). Total spent on the costume was less than $25.
Steps: 1. Glue the white bristol board to the cylinder white laundry basket, 2. Print out and glue the logos and cup noodle instructions, 3. Cut out and stick yellow tape on the bristol board, 4. Take strings of yarn and sporadically glue them on the top of the lid area, 5. Glue the accessories (peas and corns) on top of the yarn, 6. Cut out holes on each side for where the arms comes out.
Daddy spent 2 late nights to finish this for me, and I'm very proud of it. Cup noodles anyone?