Creepy Jack in the Box Costume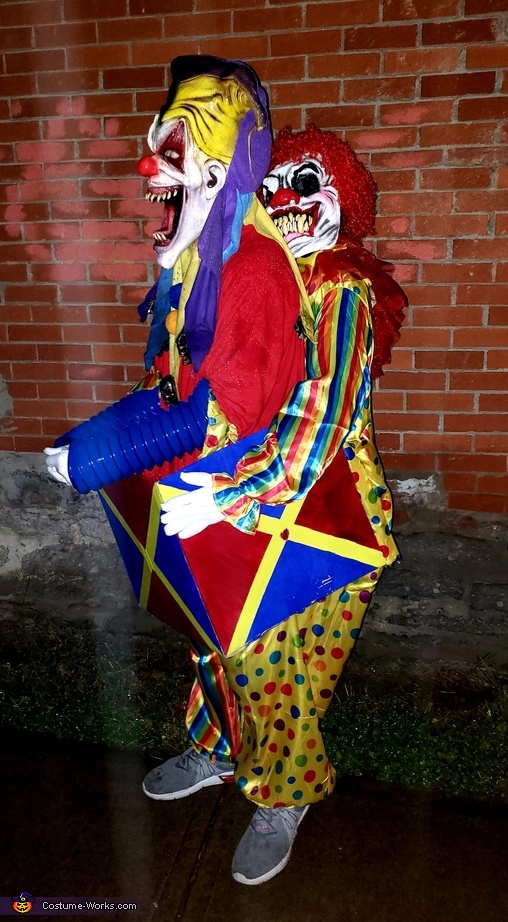 Creepy Jack in the Box Costume
More views:
(click to enlarge)
A word from Shawna, the 'Creepy Jack in the Box' costume creator:
This costume was so much fun to make and so creepy at the same time! We found inspiration from other posts on the internet featuring jack in the box costumes as well as man in the box illusion costumes and came up with this baby.
We started by purchasing our supplies including the masks, the clown outfit, material for the inside of the box, mannequin head, wig, neck accessories, Bluetooth speaker, clown shoes, and dummy materials. Then we moved onto engineering the dummy that would be holding my son in the box. Using my husband as a model for the dummy we first wrapped him in plastic wrap followed by duct tape to hold his shape and then we cut it off for later use. This was to save on costs as dummies are expensive. Next we built a stick figure like shape for the torso and shoulders of the dummy out of pvc pipe. We then built a pvc pipe square inside of the box to attach the stick figure to. Then we added harness materials made of old belts and attached them to the box for my son to place over his shoulders, allowing him to climb inside and left the box up with the dummy behind him. We then took the duct tape dummy shape we made, placed it over the pvc pipe, taped it, and filled it with pillow stuffing.
Next, we placed the clown costume on the dummyís upper-half and cut a sizable hole in the front (hidden behind the box), for my son to slip his legs through, giving the illusion that they are the dummyís legs and he is being carried in the box. For my sonís shirt, we took an XL long-sleeve shirt we bought, cut it up the middle tin the back and placed Velcro pieces to close everything and hide the harnesses on his shoulders. We then added matching material to the box and used the Velcro to attach that material to his shirt to make everything hidden.
Last, we added details to his shirt to look like a jack in the box costume, added a wooden dowel crank, and hid a Bluetooth speaker inside the costume that plays jack in the box music on a loop. This costume cost about $100 to make and is worn by my 13 year old son, Tyler.