Cowgirl Costume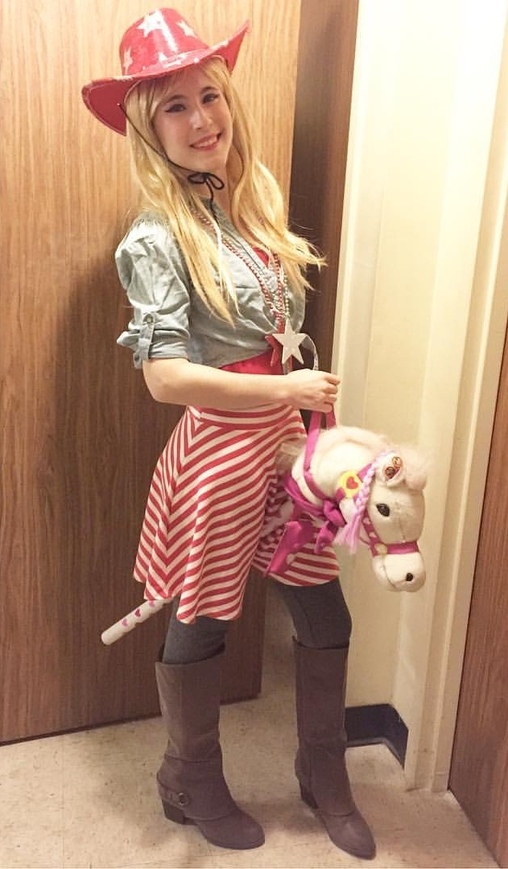 Cowgirl Costume
More views:
(click to enlarge)
A word from Kristina, the 'Cowgirl' costume creator:
I didn't know what I was going to be for Halloween this year until I was inspired by my long brown boots & a light bulb went on in my head & I just thought of "Cowgirl". I think cowgirls are beautiful & confident when they ride beautiful horses & recently I went on a trip upstate & learned how to horseback ride. All of these events inspired me to become a Cowgirl this year!

I created the costume all on my own without even going out to a costume store. The clothes I wore was already in my wardrobe. I bought the long boots couple of months ago because I'm obsessed with boots, & any heals. The cowgirl hat & star neckalaces were actually given to me as a gift from a friend after I sang at a karaoke show at a restaurant. The blonde wig is actually a Hannah Montana wig I used one halloween when I was younger, I thought the blonde hair would go great for the cowgirl style. Lastly, the toy horse I'm holding was also a gift I had from my parents when I was little. Basically my whole costume was inspiration & creativity of taking the stuff I already had & making it into my amazing style of how I wanted to be looked at as a Cowgirl. It's awesome how it turned out & I felt confident!

Wow the reactions were amazing! I actually decided to walk in the 43rd Halloween Parade this year in New York City in my Cowgirl costume & so many adults & kids took pictures of me. I feel humble, grateful, confident & blessed. Since my dream is to be a model/singer it felt great to get back out there in front of thousands of people embracing what I love to connect with others & exude confidence to others. If I can do it anyone can! May favorite part of the night was these two little girls who were screaming "unicorn" just to take a pic with me because they were crunched by the crowd. I took time to give them my respects. Halloween 2016 is one I will never forget. Fun & amazing experience.

Modeling & singing is in my veins & I hope you can see how much I love it. If I win this contest it would be a huge help financially to invest into my career to make my own music or make a portfolio for myself & submit to modeling agencies. I am a singer, dancer, model, actress, song writer, director, producer & sound recordist from New York. I am 18 years old. In March 2016 I performed at Carnegie Hall for the Somewhere Project: The West Side Story. In 2012 my original dance choreography on youtube to a Britney Spears song was tweeted by Jon M. Chu & Justin Bieber on twitter when auditioning for his Believe Tour. Any help financially can help for my career because righ now I'm taking a year off from college to pursue. Much love & respect. Thank you.