Halloween Costume Ideas for Couples
Coming up with some couples Halloween costumes can seem like a pretty daunting task. Not only do you have to create one costume, you have to create two. And not only does your costume have to be unique and make a statement about you, together your costumes have to make a statement about who you are as a couple. Here are some homemade couples costume ideas to help get you in the mood.
Of course, there's always the traditional Bride and Groom costume, but you see that couple at every Halloween party. You want to be a little more original, a little more creative, and a lot more scary. After all, it is Halloween. So pull out all the makeup and props and go to that party as a Dead Bride and Groom.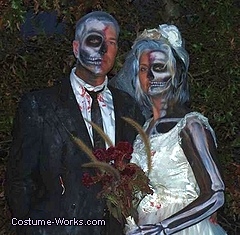 Another annual favorite for couples is the Barbie and Ken costume. This is also another easy diy couples costume to make at home. All you really need to do is decide on a theme. Like Dr. Ken and Nurse Barbie or Professor Ken and Teacher Barbie. One of our favorites is the Barbie and Ken from Toy Story costume this couple put together. Just decide on a theme, get a couple of cheesy looking wigs and plenty of pink spandex and you're on your way.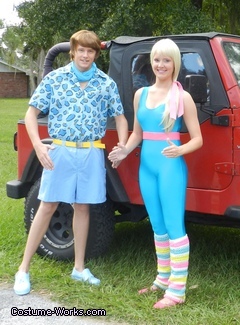 Unique couples costume ideas can be found just about anywhere you turn. Take your favorite TV shows for example. If you and your better half enjoy watching The Simpsons, all you need is a big blue wig, a skull cap and some makeup and you can turn yourselves into Marge and Homer Simpson. Or maybe your fans of the daytime talk shows. If that's the case, a wig, a microphone and some nice dress clothes are all it takes to become Oprah and Dr. Phil.

Your favorite movies are also another good place to start. The Oompa Loompas from Willy Wonka and the Chocolate Factory are hilarious. Look to current movies, too, for a fun costume that everyone will recognize. This year's favorites will probably be something from The Hunger Games or Prometheus and whatever character Johnny Depp is currently playing.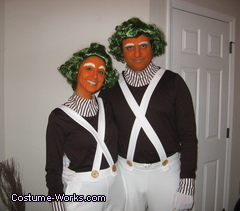 In fact, you could costume your whole family in Johnny Depp costumes – Edward Scissorhands, Captain Jack Sparrow, The Mad Hatter, and even his early rolles in 21 Jump Street and Nightmare On Elm Street. Say, there's a great couples costume idea – one of you could dress up as Freddie Krueger and the other could be Johnny Depp getting sucked into a bed!
There are so many ideas for couple Halloween costumes. Think about something you're both interested in and then turn it into a play on words. For example, serial killers is always a good theme for Halloween. But have some fun with it. One of you could dress up like a knife-wielding maniac and the other could be a bloody, battered box of breakfast cereal.
Don't limit yourself to the standard Mr. and Mrs. Dracula or a traditional Bride and Groom. Start planning early and get creative and then enter your unique, awe-inspiring creations in our annual Halloween Costume Contest!
* * *
See also: 75 Creative Couples Costume Ideas.

You will find a lot more great Halloween costume ideas for couples in our Costume Photo Gallery