Count Von Countess Costume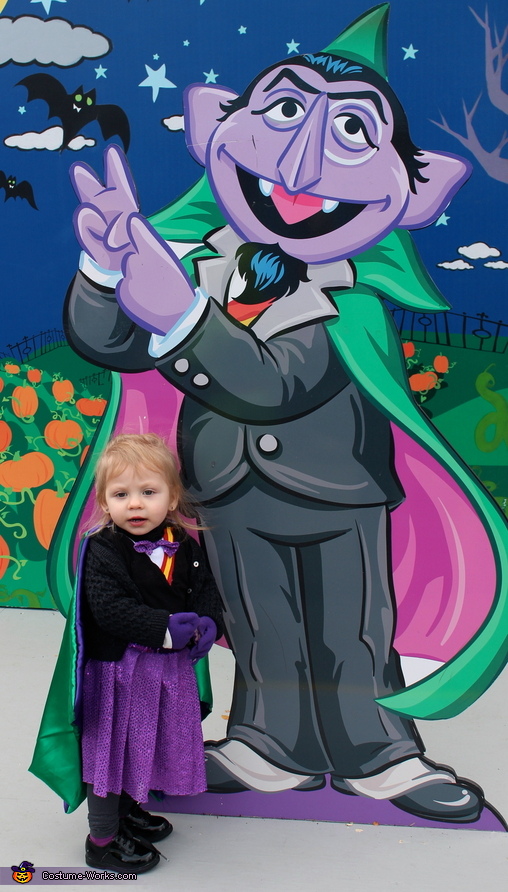 Count Von Countess (Sesame Street)
More views:
(click to enlarge)
A word from Jennifer, the 'Count Von Countess' costume creator:
My daughter is wearing this hand-made count von count-ess costume which is inspired by the classic children's television show, Sesame Street. She loves the count from the show, but there is only a costume of the count himself, for boys, and not one for girls; so I decided to make her this costume.

How To:

1. Get purple fabric to make the skirt and bow tie part. Also get shiny sating green and purple fabric for the cape.
2. Get a black shirt or onesie for the top half of the costume.
3. Get yellow, white and red felt for the inside of the shirt.
4. Get black and purple ribbon to make a hair bow. Count Von Count Button optional to add. Also get some velcro.
5. Cut fabric and pin it along the black shirt; baste the fabric and sew with sewing machine (youtube instructions on how to sew a dress out of a onsie if needed).
6. Cut a triangle shape out of the top of the onsie and either hot glue or sew the white felt on the inside of the shirt. Then hot glue/sew the red and yellow fabric diagonally.
7. Use left over purple fabric to make a bow tie and attach to neck of shirt.
8. For the cape, just cute a square or rectangle out of the two silky green and purple fabrics and sew together (inside out, then pull through small hole and sew).
9. Attach cape to back of shirt using velcro.
10. Get black shiny shoes (I got mine from a consignment store)
11. Design a hair ribbon (any style) (youtube on how to make them if need be).

*You can also paint the child's face purple and use a paper towel tube with black face paint on the end to make the eye piece (black circle). Add fangs even! (my daughter is only 21 months old, so I attempted face paint, but she wouldn't go for it THIS year!).