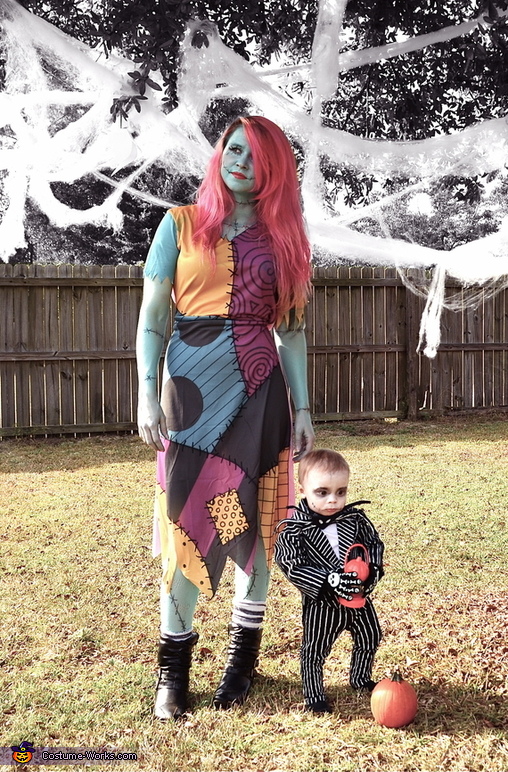 Jack Skellington and Sally!
More views:
(click to enlarge)
A word from Brandi, the 'Jack Skellington and Sally' costume creator:
This Halloween my son is dressed as Jack Skellington and I am dressed as Sally from "The Nightmare Before Christmas."
His costume is homemade. I altered a cheap tux jacket to fit him, and did the pants. I also made his tie from scratch using floral wire, cardboard and an old t-shirt. Once I finished making the outfit I hand painted each white stripe on the jacket, pants and tie.
For my costume, I bought the dress for the fabric and then made dramatic alterations to it, I made the striped leg warmers out of old socks and a fabric marker. I also dyed the tights I am wearing (with food coloring) and drew the stitches on with fabric markers, and then used the same shade of food coloring to make my face/arm/chest paint, also dyed my hair as well with homemade temporary hair dye.
The background is inspired from the movie as well, from the scene with all the holiday door trees in the forest (which double as entrances into the different holiday "worlds").
I took all of the pictures myself, including the ones we were both in, using the self timer option on my camera and a "tripod" I rigged up with my sons high chair and a diaper box in our backyard with plenty of sunlight. I also did all the editing to the photos. I tried to make them look as much like the fantasy world in the movie as I could, hence the black and white backgrounds, low saturation and high exposure in the pictures. The overall cost for making our outfits, makeup, and this scene was $17, and I of course intend to reuse the props and pumpkins as Halloween decorations around the house :)
The inspiration behind our costumes was my husband, it was his favorite movie, and he had every last word and song memorized! He even did great impressions of every characters voices. The love of this movie was one of the things that connected us when we first met. It seemed only fitting that our son would be Jack Skellington "the Pumpkin King", and I would be Sally this Halloween.
We had so much fun playing in this little fantasy world all afternoon and being "in character", I can't wait for our next opportunity to dress up for a holiday!
Happy Nightmare Before Christmas!