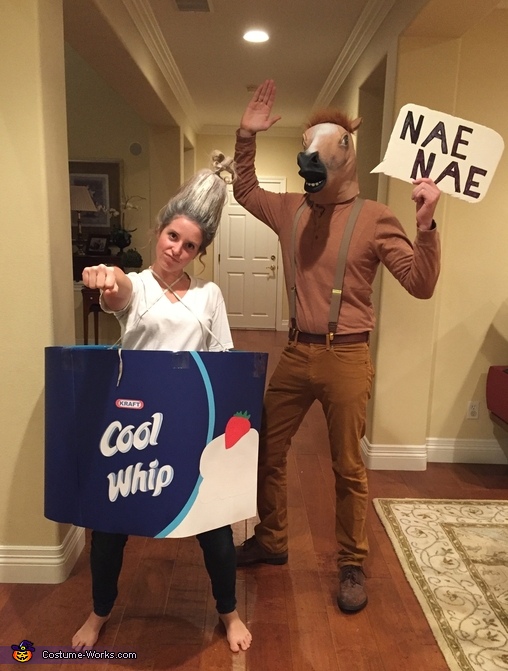 now watch me...
More views:
(click to enlarge)
A word from Jillian, the 'Whip and Nae Nae' costume creator:
My boyfriend and I are wearing this costume. I came up with the idea as I was trying to think of what would be a funny, relevant costume for this year and this song came to mind. I also work at Starbucks and make the joke of "watch me whip" every time I put whip cream on someone's drink :) I was hesitant about doing it since I knew it require a bit of work to pull it off, but luckily i'm dating the most perfect guy for me who not only has the same humor as me but is also super creative and encouraging and was able to help me put it together and pull it off well!

For "whip" we used a hula hoop as the base and found some shoe laces to tie onto it to hold it on my shoulders. We then created the logo and pasted it onto a poster board which we wrapped around the hula hoop. My boyfriend as "Nae Nae" dressed up as a horse with some brown western wear he found around his house and bought some fabric to make it look like a tail. We also made a word bubble saying "Nae Nae" out of poster board.

Everyone loved the costume and not only encouraged us to enter in a contest but has been encouraging us as a couple. I love that creative things like this just shows us how good we are for one another and it has been really fun hearing that from others too!