Cops & Robbers Costume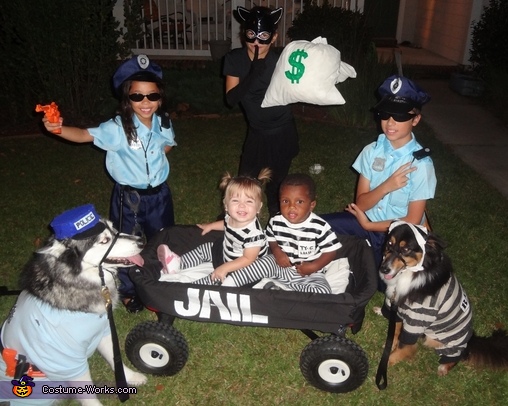 This is our 1st Halloween as a family! We went from 0 to 5 kids in 5 months thru U.S. adoptions!
More views:
(click to enlarge)
A word from Shannon, the 'Cops & Robbers' costume creator:
First off, I didn't sew anything, just paint and hot glue. Second, I only paid $25 for the whole ensemble!
Cop costumes were $2 each at a consignment store. We spent $4 on cop accesory packs and sunglasses at the dollar store. I did some hot glue adjustments on costumes, glued badge and radio on, and glued loops out of black fabric onto the belts to hang gun/ handcuffs, etc. Total = $8
Dog Cop costume made from my son's old shirt. I glued belt loops directly on shirt our of black fabric. Spent $1 on cop accesories from dollar store. I made hat out of cardboard covered in felt. Total = $1
Robber costume is made of a black shirt, skirt, leggings and boots from her closet. Spent $6 on cat mask and tail, and $2 on gloves. Bag is an old pillow case filled with packing peanuts with an $ painted on with fabric paint. Total = $8
Dog Inmate costume was $7 at Target, bandana is an old white shirt cut up and covered in electrical tape. Total = $7
Inmate costumes are made up of striped leggings that were given to me and old white shirts covered in electrical tape ($1) and fabric paint for front and "County Jail" on back. Total = $1
Jail (wagon) - Black fabric I already had hot-glued to fit wagon and painted "JAIL" on all sides with white fabric paint. Total = $0