Coco's Family Costume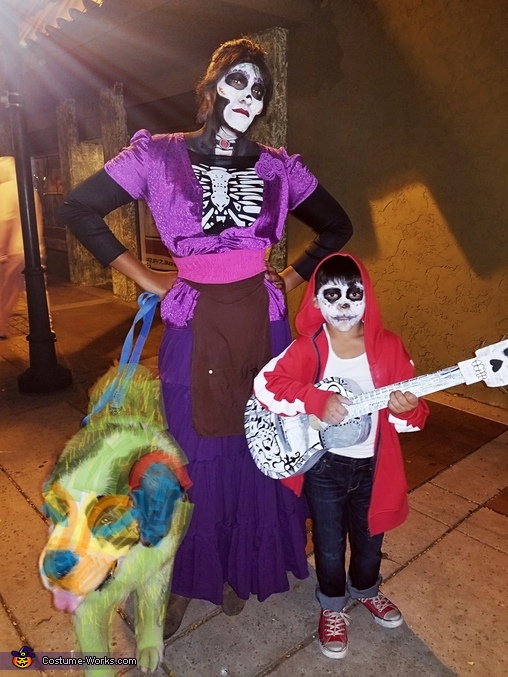 Myself as Mama Imelda, my son as Miguel, and our dog as Pepita the alebrije
More views:
(click to enlarge)
A word from Prisilia, the 'Coco's Family' costume creator:
The Disney Pixar movie Coco touched me so much that I knew I wanted to do a costume one day. I decided to be Mama Imelda, my son is Miguel, and my saint bernard is my alebrije, Pepita.

I bought an old guitar at a thrift store and used white and black paint,a yellow marker, cardboard, and some nails to transform it into Miguel's homemade De La Cruz guitar. This was really fun and low-pressure because it doesn't have to be perfect since it's a replica of a replica made by a child. A red hoodie with white stripes that didn't cost an arm and a leg was hard to track down. Ultimately, I bought a red hoodie from a thrift store and painted the stripes myself, using tape to make straight lines. Throw on some face paint, rolled up jeans, and a white undershirt onto an adorable brown-eyed boy and you have Miguel!

Mama Imelda was my favorite project. I am usually one to buy pre-made costumes, but my budget forced me to be creative. 90% of everything used for my costume and my son's came from a thrift store (lots of thrift stores. It was a fun hunt). I found a child-size skeleton leotard costume which worked perfectly because I only needed the chest to show. I wore a corset over it since Imelda has a tiny, non-existent waist. A purple ruffled skirt and purple button up shirt with most of the buttons undone and pulled off to the shoulders made her dress. This was layered with an old pillowcase that was made into an apron and a large pink elastic made into a belt. Very detailed face and body paint and a braided bun completed the look.

Last but not least, my dog! He was very tolerant of hair chalk being applied to him, but wasn't a huge fan of the spray-on color. I wasn't able to make it as bold as I'd have liked. The colors were very subtle in person and almost invisible in pictures. Therefore, my dog's costume is mostly just me drawing (badly) on the picture. It's the thought that counts! He truly is a spirit guide.

In all, the cost for all of these costumes (including makeup/paint) was less than $40 and it was very rewarding!