Clue Card Characters Costume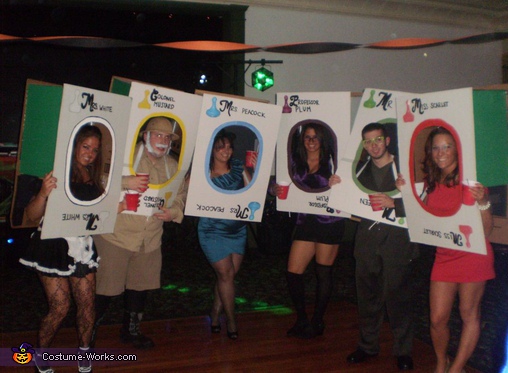 THIS IS US IN OUR CARDS.
More views:
(click to enlarge)
A word from Nicole, the 'Clue Card Characters' costume creator:
There is six of us in my group. We are the characters from the game clue. mr.green is Timothy Mastromonaco; colonel mustard is Billy Gorzelany; Mrs.White is Lauren O'Connell; Professor Plum is Christina Gelardi (we ran out of female characters so be thought that; Miss.Scarlet is Lauren Anderson and Mrs.Peacock is me (Nicole Orazietti). Every year me and my friends make home made extreme costumes and this year we came up with the idea just on accident. But i believe that its very different i have never seen this ever done. The cards are just card board cut outs but we gave ourselves enough room on the sides to be able to more our arms. We wanted to make sure that we would be able to dance and move around in the boxes also so we were tied in the front and also the back and there was also straps that rested on our shoulders. It was fairly cheap also to make the boxes, just some card board, glue, paint, and string.