Cleopatra Costume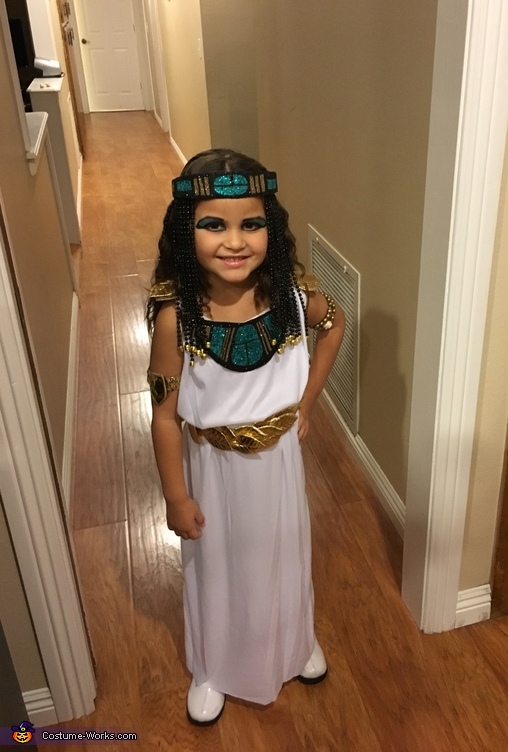 Cleopatra Costume
More views:
(click to enlarge)
A word from Veronica, the 'Cleopatra' costume creator:
My 5yr old daughter loves wearing long dresses and accessories and so for that reason I decided to go with Cleopatra this year. I had an old angel costume that my 8yr old wore last year. I figured it would fit my lil one if I put on some white boots I had also from an old costume of my older daughter. I love hand me downs. I removed some tulle sleeves the angel dress had. I always have paint and different glitters so I wanted to make her headpiece and necklace myself. I bought .23 cent gray felt and drew a shape of necklace on it and cut the shape out. I also found an old pink headband that was pretty wide with a bow on it but I removed the bow. I traced the front of headband onto the felt and then cut it out. With a pen, I drew rectangles, circles and triangles on both the necklace and headband pieces of felt. Then with some paint I already had i painted both pieces. I used acrylic Aqua,black and gold. I let them dry a couple hours. After I put white school glue in three disposable
cups. I added turquoise fine glitter in one black glitter in second one and gold glitter in third one. I added a good amount to where you barely can see the glue color. I carefully painted with each glue/glitter mixture over each painted parts on necklace and headband piece. I let dry for a couple hours. I bought some black bead necklaces from dollar store and some gold accessories for hair also from dollar store. I wanted to make her look like she had black thin braids like the real cleopatra. I cut necklace in half and glued on the headband, I did 10 on each side. Then I got glued the gold accessory to bottom of beads. I found a gold leaf headband at party city and made that into her belt. Overall I was very happy with her look! Oh and to crimp her hair I showered her the night before and while her hair was still wet I made a lot of little braids everywhere and next morning when I removed all the rubber bands her hair had crimp curl all over. Total I spent was under $20. I will never buy a costume at a store again. Much better and nicer costume can be made if you just put in some time!