Clayface from Batman Costume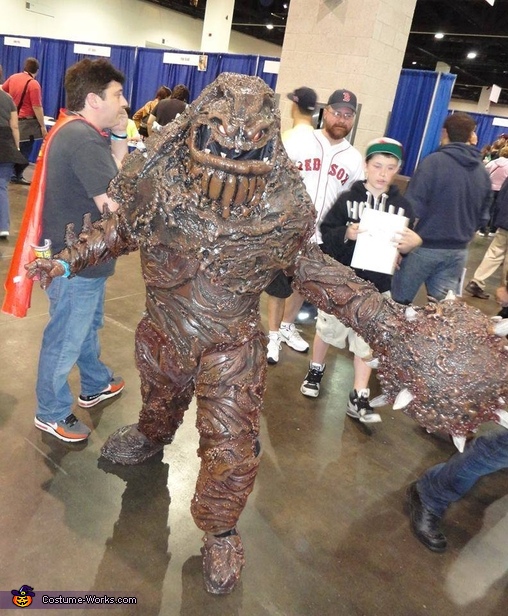 The finished suit!
More views:
(click to enlarge)
A word from Joseph, the 'Clayface from Batman' costume creator:
About the costume. Well, for starters, it took nearly 10 months from concept to completion! That seems like a long time, but it was a lot of fun, albeit labor intensive, so it was well worth it! I actually had the idea to make the costume years ago, but only just this past year had the time and resources to tackle it. I've been a Batman fan since I was just a kid, and Clayface has always been one of my favorite villains, hands down. This particular take on the character was inspired by Bruce Timm's character design in Batman: The Animated Series, which I was and still happen to be a HUGE fan of!

The costume itself is made nearly entirely from EVA foam floor mats (those grey interlocking ones you use in an exercise room!) heated, shaped and glued together. I then used a Dremel to carve and shape each and every individual piece (the entire upper torso, lower torso, and about 8 pieces each per arm and leg!) until they went from looking flat and plain, until they looked gloppy and organic! After that, I brushed on spray foam (the kind used to fill cracks in the foundation of a house) and followed all of my carvings to give the entire thing a sense of movement. I used an LED battery pack to make the eyes light up, and carved green floral foam for the spikes. The entire thing was then given a 5 step paint process using black and 4 different shades of brown, and finally sealed with a clear rubberized coating to both protect the paint and waterproof it in case of bad weather! The arms and legs took a few tries to get right (three, exactly), but I'm really proud of the end result! so 10 months and about $75 later, I have a costume that I'm REALLY proud of as both an aspiring artist and a long time comic book geek :)

That's me in the suit!