Circus Ring Master & Lion Costume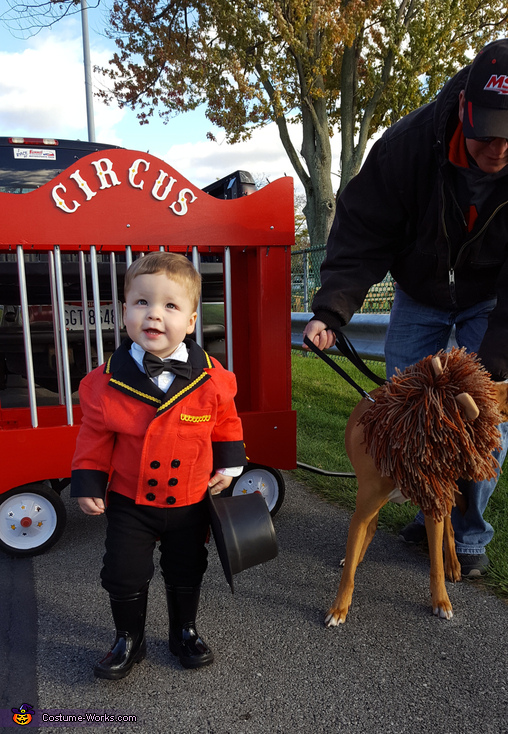 Circus Ring Master & Lion Costume
More views:
(click to enlarge)
A word from Kate, the 'Circus Ring Master & Lion' costume creator:
The CIRCUS is coming this Halloween! Starring: my son, "M", as the Ringmaster and our dog, Hannigan, as the lion of The Greatest Show on Earth.

I came up with the idea after I saw the oh-so-sweet Amazon commercial with the baby and the lion. After wiping away my tears, I thought our little Hannigan would make the perfect lion. I decided then, that we had to do a circus theme for Halloween. Every aspect of this costume is 100% handmade.

The circus wagon was designed by me and made by my father and I… with a little help from my son of course! We used the base from my childhood Radio Flyer wagon as the base. I made a few trips to Home Dept for supplies and used some wood from the garage. The wagon was created with: plywood, 2x2's, 2x4's and ½" conduit. Also, the back panel of the wagon has hinges and can be lowered so my son and dog could get in and out easier. After painting the wagon red, I hand-painted and added letters (from Michael's) and LED lights (from Target) as final touches.

The Ring Master jacket was made by altering a blazer to fit my son. I added the black fabric to the lapel, along with decorative ribbon. I also added the same ribbon around the tail of the jacket. I created cuffs from the black fabric as well and sewed on little star buttons as cuff links. Black buttons were also added to the front of the jacket.

A 'whip' was handmade by using a dowel rod, a piece of leather string and electrical tape.

The lion mane was created by sewing a cowl to fit the dog and adding a drawstring to help it stay up. I individually attached hundreds and hundreds of strands of yarn onto the cowl to create the look of the mane. Yes, each piece of yarn was individually hand-stitched and tied on!

This project took about 2 months to finish.

We went to a couple Halloween events and everyone that saw the circus loved it!!! So many people stopped us to compliment and ask if they could take pictures … and pet the dog! It was so rewarding to hear and my son just LOVED all the attention!