Circus Family Costume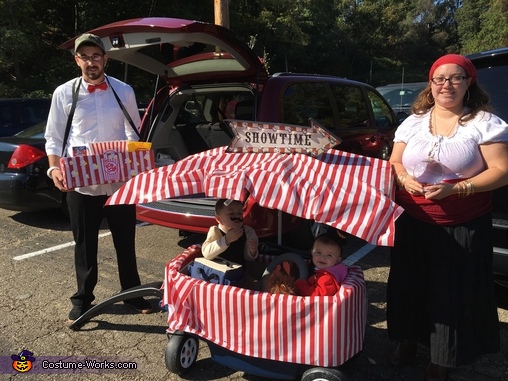 Family picture
More views:
(click to enlarge)
A word from Brittany, the 'Circus Family' costume creator:
Bayley (9 months) is the ring master. Her costume is made from a red pea coat for a $1.00 at a yard sale. I added gold trim and black buttons. Her hat is made from a toilet paper roll and a headband from the dollar store. Her ring of fire is made from a styrofoam ring painted grey and flames are made from paper.

Brantley (2 years) is the strong man. His costume was clothes he already had. And mustaches from the dollar store and we bought the barbel from Amazon.

Brittany (mom) is the fortune teller. Clothes found at goodwill and crystal ball made from glitter and water.

Derek (dad) is the popcorn vendor. His costume was clothes he had and the popcorn box is made from a cardboard box covered with a table cloth.

The wagon is covered in a table cloth and the sign I found on clearance for $5.00 at Michaels craft store.

So all together we spent around $20-30 for the family themed costume.