Cinderella's Carriage Costume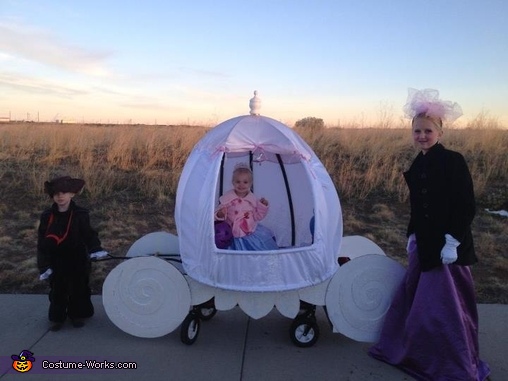 Cinderella, her Driver and wicked Step Sister
More views:
(click to enlarge)
A word from Anita, the 'Cinderella's Carriage' costume creator:
We made Cinderella's Carriage on our kids waggon. The top is made from drip line pipe that we had left over from landscaping our yard. It is pieced together with pipe fittings that we bought at the store for about $10. The frame was then covered with a wedding dress fromt he thrift store ($20) and some left over pink satin I had already. The base of the wagon was covered with cardboard that I cut and painted to look like wheels and vines. And the topper on the top was the end of an old wooden curtain rod that I painted and covered in glitter ($10 for white paint and glitter).

My son has a black horse costume on but it is hard to see the horse head the way he is standing in the picture and our two year daughter was Cinderella and her 12 year old sister played the wicked step sister.