Chucky, The Bride of Chucky and The Seed of Chucky Costume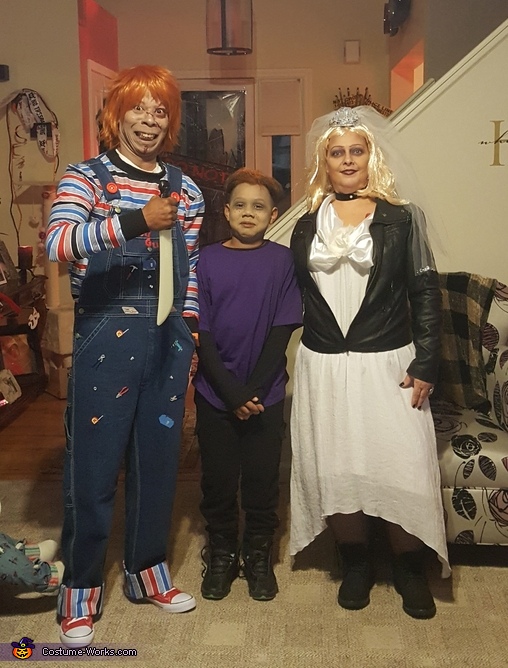 Chucky, The Bride of Chucky and The Seed of Chucky Costume
More views:
(click to enlarge)
A word from Michelle, the 'Chucky, The Bride of Chucky and The Seed of Chucky' costume creator:
The costumes are my husband (Rickey) and I(Michelle) and our grandson (Max). I've been wanting to make these costumes for the past couple years. So I finally did it!
FOR CHUCKY: I just bought some overalls and glued some little craft sticker tools to them, then cut out the good guys letters and stuck them on the front of the overalls, I also sewed red buttons on the overalls. I bought red airwalks for the shoes. I bought the material and made the shirt (all sewn by hand) and put the cuffs on the bottom of the overalls to match the shirt. Bought a short orange wig to go with the costume. I made his face up with foundation and halloween makeup....I drew bloody scars on his face too.That probably cost me about $65.00 to make.
THA BRIDE OF CHUCKY: I already had an old white dress and I bought a small piece of white satin to put on the top of the dress to make it look more wedding like. I wore black timberland boots that I already had and a pleather jacket that someone have me. I already had the tulle to make the veil. I bout a medium length blonde wig and used a Sharpe to put dark roots on it. I spent probably about $15.00 making this costume.
THE SEED OF CHUCKY: I bought a pair of black sweat pants, a long sleeve black t shirt and a purple t shirt. He wore a pair of his own black tennis shoes. Oh and a can of orange hair spray paint for his hair. I straightened his hair to make it look sloppy then sprayed it. I used green Halloween makeup mixed with foundation to do his face. I used black eyeshadow to deepen his eyes and used eyeliner for the freckles. I spent about $25.00
Our costumes were a big hit at our Halloween party!!!!