Chucky n Bride Costume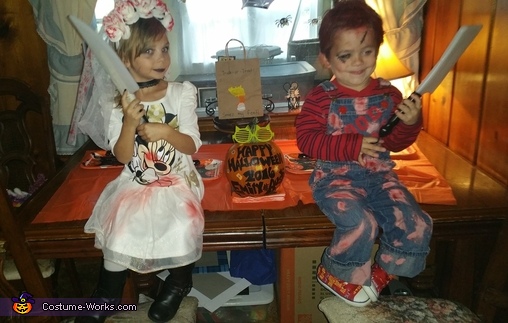 Chucky n bride #1
More views:
(click to enlarge)
A word from Carrie, the 'Chucky n Bride' costume creator:
So my son is 3 years old(his name is Austin) ,and we currently live with our cousins. Anyways so our little cousin is 4 yrs old( her name is emily.)So both myself and her mommy could not think of anything for halloween. Then little emily said what about chuckys bride, since she had been kind of obsessed of watching these youtube videos of chucky...then all of sudden it came to us to do chucky and his bride , and since we did not have enough funds to do buy a full costume, we decided that we just make them,and we did It could not of been anymore perfect! It was a instant hit!
So now that its the day after i thought well i just cant get over this so i must try and submit this to a contest.
So here i am !!
I am so impresed with our idea and how well it came together. So im hoping just maybe everyone else can agree to...
And thats why i am submitting this.
Thanks!!!!"
Carrie Taylor & Vicky Maurer
Mommies- of -
♥ Chucky & his Perfect Bride!!!