Choo Choo Train Costume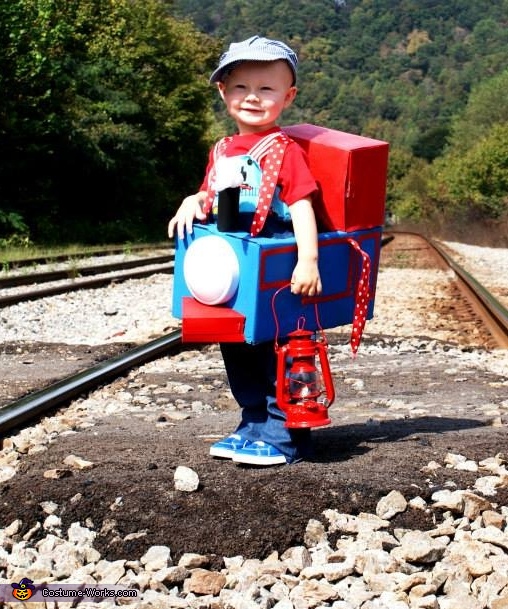 Choo Choo!
More views:
(click to enlarge)
A word from Amanda, the 'Choo Choo Train' costume creator:
My son is a "Choo Choo Train" fanatic. Any and all kinds of trains, he loves them. I wanted my little boy to enjoy wearing his Halloween costume as much as I enjoyed making it. I came up with this idea from his attraction towards Choo Choo's. I began piecing his train costume from old boxes from around the house. I used two diaper boxes, and I cut the triangular edge of a Ritz cracker box for the front. I painted all the boxes with Chayse's favorite colors. The smoke stack is a toilet paper roll painted black. The smoke coming from the stack is cotton balls hot glued together strategically. The Tap light is from The Dollar Tree. I fused all of these pieces together with bread ties. The design on his little train is from red electrical tape. I poked holes in the front and the back so that my red polka dotted ribbon could makes straps to hold up his costume. Now, down to the nitty gritty. Chayse's homemade conductors outfit was sewed together piece by piece. Fabric for the pants was old curtains. I purchased the Thomas the Train material. The red and white striped straps were from a Goodwill shirt I purchased early on in the year. I sewed each fabric together slowly but surely. The hat I found on Amazon, which I'm also using for his Birthday Party. Topping off this adorable little costume is an old red lantern I found at the Flea Market. I enjoyed every second I put into this costume! Seeing my sons face when he wears his train costume makes all the hard work worthwhile!