Chia Pet Dog Costume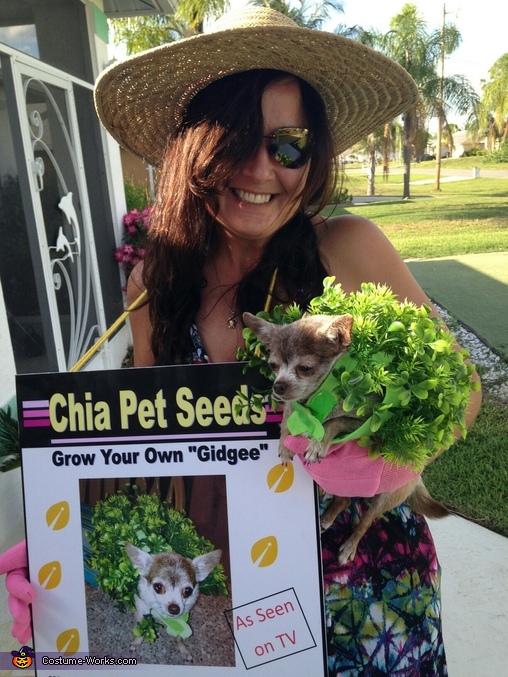 My Chia Pet
More views:
(click to enlarge)
A word from Nancy, the 'Chia Pet' costume creator:
Hi there,
My name is Nancy. This is my sweet 9 year old chihuahua Gidgee-Girl. She is dressed up as a Chia-Pet!!!
I love dressing her up in costumes. I ask friends and coworkers for ideas for her all year long. This is what I came up with.

I made a little felt vest for her and attached velcro, so it would stay on her. I searched nurserys, craft stores and fabric stores, to find the "Chia plant look." I ended up using aquarium plants. I took the plants off of the base they came on, poked holes in her vest, and slid the plants into the holes. I secured them on the back of her vest with duct tape and another layer of felt, to protect her from getting poked.

I created the package of "Seeds" "GROW YOUR OWN GIDGEE," on my computer and attached it to a poster board.
I had the watering can, hat and gloves already at home.

Little Gidgee-Girl is my Service Animal and has helped me numerous times, keeping me safe. She is small but mighty. She is super in tuned to me, and always ready to serve and please me. Even if it means wearing a silly costume for my enjoyment!!! Please consider this little angel as a winner. She and I thank you for the opportunity and for having this fun contest!!!!!!