Tim Burton's Alice in Wonderland Cheshire Cat Costume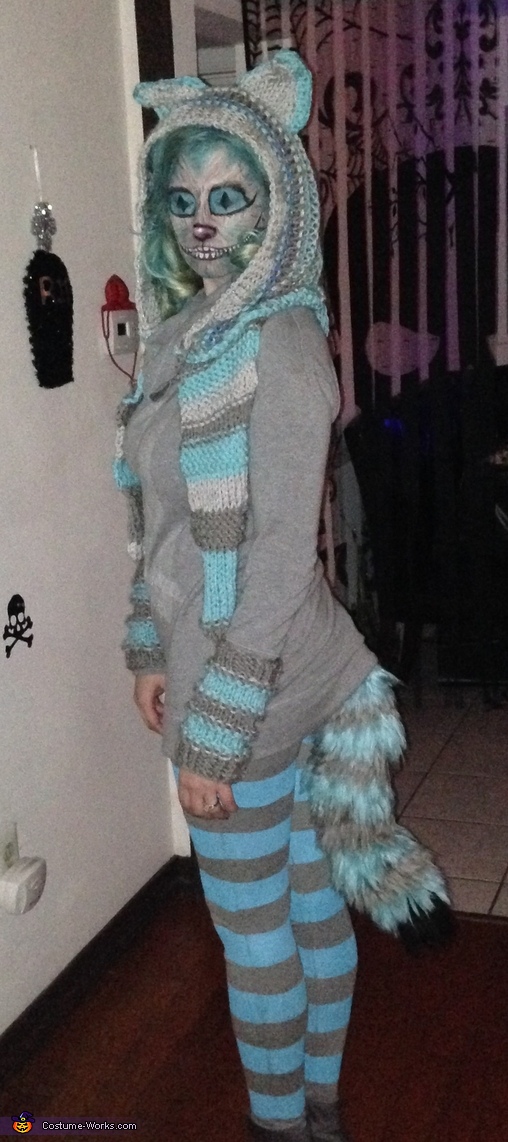 Cheshire Cat 1
More views:
(click to enlarge)
A word from Sheila, the 'Cheshire Cat' costume creator:
I'm wearing the costume.

I am fascinated by the artistry and costume design that went into Tim Burton's Alice in Wonderland. Since this version of Alice was so dark, I wanted to create a more alternative style costume to fit the creativity of the movie. My goal was to show the Cheshire Cat disappearing and reappearing again by methodically placing the stripes throughout the costume. I really wanted to design a freestanding hood, separate from the rest of the costume, as well as a homemade tail with the level of creativity from a Comic Con character.

Hood & Arm Warmers: I doubled up on yarn to make the hood and arm warmers to provide a more bulky structure. I used primarily gray and turquoise yarn (with a strand of medium blue) to knit the hood and put craft wire in the outline of the hood to give it some structure. Below the hood, I knit scarf strands to provide additional stripes for the cat. Once the hood was almost complete, I knit ears and with the double up yarn it provided for a sturdy structure to allow them to be mold-able. I also used the same yarn to knit arm warmers.
Tunic: I bought a cowl neck tunic from Target to provide solid gray to represent the disappearing and reappearing of the Cheshire Cat.
Leggings: I made a paper template to space the stripes apart. I used turquoise fabric paint to do the stripes. One day I completed the front; the next day I finished the back. I also did a double-coat of fabric paint after trying them on to get them formed.
Tail: I used yarn to create a really thick braid (~1-2-inch diameter) to serve as the structure for the tail with heavy gauge wire to allow for bending the tail. I cut 6-inch pieces primarily of gray and turquoise yarn (with a little bit of black). I put them into groups of 8 by tying a knot in the middle. I used a hard sketchpad and a slicker brush to comb out the yarn. Once the yarn was combed out, I took a straight iron (typically used for straightening hair) to melt down the yarn just enough to create a realistic hair texture. I used a needle and thread to stitch each piece into the structure of the tail.
Hair/Make-up (Non-Costume Notes): I put my hair in hot rollers to get a good curl. Once set, I applied Color Bombz Untamed Turquoise to my hair in order to provide a lining of color between the detail of the hood and the make-up. For make-up, I used MAC Cosmetics' eyeliner and eyeshadow along with gray cream make-up to detail the expressions made by the Cheshire Cat.

My mother was my inspiration for this year's Halloween costume. She recently passed away in February 2014 and was always proud of my Halloween costumes and creativity. In her last days before passing, I read her the story of Alice in Wonderland since she could never figure out my fascination for the story since I was a little girl. My mom was my matron of honor in my wedding last summer and my largest piece of my wedding dress was a tattoo inspired by Alice in Wonderland with my mom's nickname and the question, "Who Are You?" I'm also inspired by my husband who pursued one of his dreams (within our first year of marriage) to join the Army National Guard and is now serving on active duty in Fort Benning since July 1st.