Chef and Bun in the Oven Costume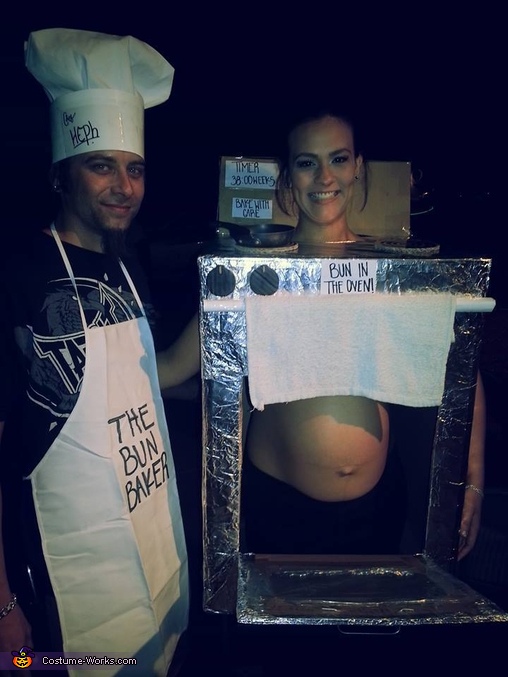 Bun in The Oven
More views:
(click to enlarge)
A word from Caitlyn, the 'Chef and Bun in the Oven' costume creator:
My boyfriend, Jeffrey, is wearing a chef hat made from a tote bag and a strip of poster board. He also has an apron with "The Bun Baker" written on it! I, Caitlyn, am wearing a baby stroller/car seat box with two holes for my arms and one for my head to go through.
The box is wrapped in tin foil and has an oven door that opens and closes with a handle my boyfriend made with a hanger. The door also has a plastic wrap window so you can peek inside at the "Bun in The Oven"!
Right above that we made a towel hanger out of poster board and a clothes hanger. We also made stove top knobs and burners out of cardboard and taped a mini cooking pan on one of them. There is a "timer" that says "38:00 Weeks" and a sign that says "Bake With Care"! I am 38 weeks pregnant, due on November 11, 2014 with a baby girl.
I was so excited to make homemade costumes with my amazing boyfriend for Halloween! This was our first year ever making a costume at home and we did it all for our beautiful baby girl! We had a great time making our costumes together!