Charlotte's Web Costume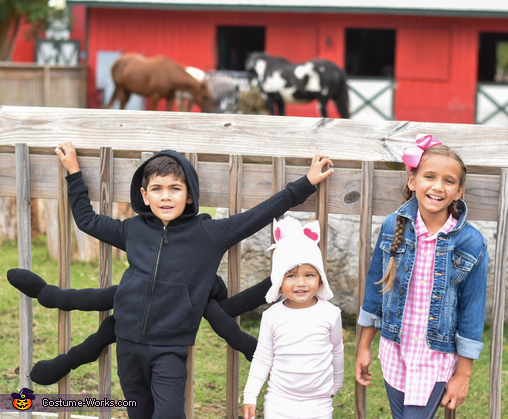 Charlotte's Web
More views:
(click to enlarge)
A word from Kavitha, the 'Charlotte's Web' costume creator:
We came up with the Charlotte's Web idea because my daughter's 3rd grade class is reading the book.
Addison is dressed as Fern : jeans, jean jacket, gingham shirt, braids, and drawn on freckles
Micah is dressed as Charlotte (spider): Black jogging suit & black gloves. Fill 2 black pairs of stocking with poly fill. Sew or pin the stockings on the back of the hoodie. Tie clear fishing wire from the first leg to the second and tie the second to the child's arm so that the legs lift up when the child lifts their arms.
Gray is Wilbur (Pig): Pink shirt , pants, hat, and gloves. Cut out ears from pink felt and hot glue them to the hat. Cut a felt
snout our of flesh and glue it to a mask.
https://www.instagram.com/celiackidcooks/