Charlie & The Chocolate Factory Costume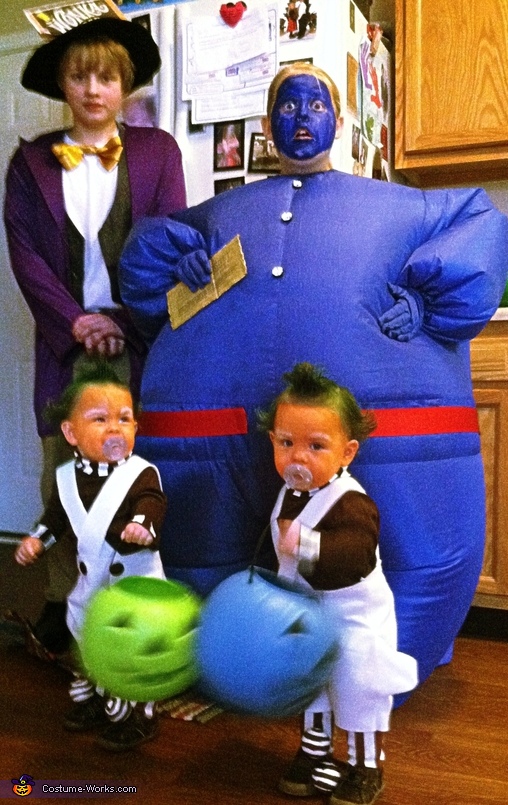 Charlie & the Chocolate Factory
More views:
(click to enlarge)
A word from Myra, the 'Charlie & The Chocolate Factory' costume creator:
About 3 weeks before Halloween I was clueless as to what my kids would be. I knew the older 2 wanted to be something scary, but thought that would have to wait til next year, seeing as how they have 1 year old twin brothers. After a little "Googling" & a lot of begging the older 2, we came up with this idea!

For Willy Wonka's costume we had a lot of it on hand. What we didn't have I purchased from thrift stores. What was needed for this costume was khaki pants, white shirt with a gold bow, a vest, purple jacket, cane & hat! The vest & hat I found at 2 different thrift stores, the vest I purchased for $4.50 & the "Pimp Hat" turned Wonka hat, I found for $2.50. I removed the leopard ribbon from the hat & added some purple I had on hand. For the jacket, it was actually a Joker costume we had from a previous year, so I just removed the attached vest & there ya have it! I also attached a gold bow with some ribbon I had, to the white t-shirt. For the cane, I was looking into making 1, but found the pimp cane @ our local party store for $6.00, after my 30% off coupon, that worked just fine. I printed off a Wonka bar picture & glue it to some cardboard & he was set! All together Willy Wonka cost me about $12.50.

Violet was the one that had me stressed out. I searched thrift stores for days trying to find a matching colored blue shirt & pants, and continued to have no luck. While I was at the party store looking for Willy a cane, I luckily ran into an all blue, adult, Morphsuit costume! It was perfect. At this point I didn't care the cost, I just had to have it, so after my 30% off coupon, it ended up costing me $38.50. A little pricy, but I was tired of searching! For the belt, again, I had red ribbon on hand. I cut up an old belt for the buckle & attached it to the ribbon. Using velcro I attached the belt & buttons to the costume. The buttons I purchased from Jo-Ann's for $2.50 with my 50% off coupon. The blue paint I got from the party store for $1.00. I also printed off a golden ticket & attached to some cardboard, and there my Violet was complete!!! Finally! With a total cost of $42.00.

My Little Oompa's! I never thought they would end up looking almost dead on, but boy was I wrong! For these costumes it was pretty easy. I purchased 2 brown turtlenecks at Wal-Mart for $3.88 each, a pack of 2 white tights for $3.00 & some brown dye for $3.00. I bought green hair paint and orange & white face paint for $1.00 each at the party store. The brown shoes we had. I bought a pack of 12 Styrofoam balls from Hobby Lobby, with my 40% off coupon, for $3.50 and white tape for $4.00. For the jumpsuits I bought 2 yards of white felt fabric from Jo-Ann's (which ended up being way more than I needed). With my 50% off coupon I paid $8.50. I also purchased the brown buttons there for $4.00. A total price of $16.44 per costume! For the turtlenecks, I added tape to the end of the sleeves, and turned them inside out, and added tape to the collars. I died the tights and once on the boys I added the tape (stripes on legs). The brown shoes we had, but I put Velcro on the balls and attached to the shoes. That of course, was after I had glued on the scrap brown fabric to make the stripes. The jumpsuits were pretty easy. I took a pair of their shorts they could currently wear & traced around them with a 1 inch seam allowance. I eye-balled the pant poofs (?), but read that some people used a cup or lid to measure. I glued the buttons on, and measured the babies for the straps. I sewed on the back straps & used Velcro for the front straps. On the big day I dabbed on the orange face paint and tried to work around them moving for their white eyebrows. I also sprayed their hair green and used my curling iron for the curls!

I knew how cute my kiddos were, but I must say that I was overwhelmed with the amount of compliments we received. People were coming to find us just to see them!