Carole Baskin Costume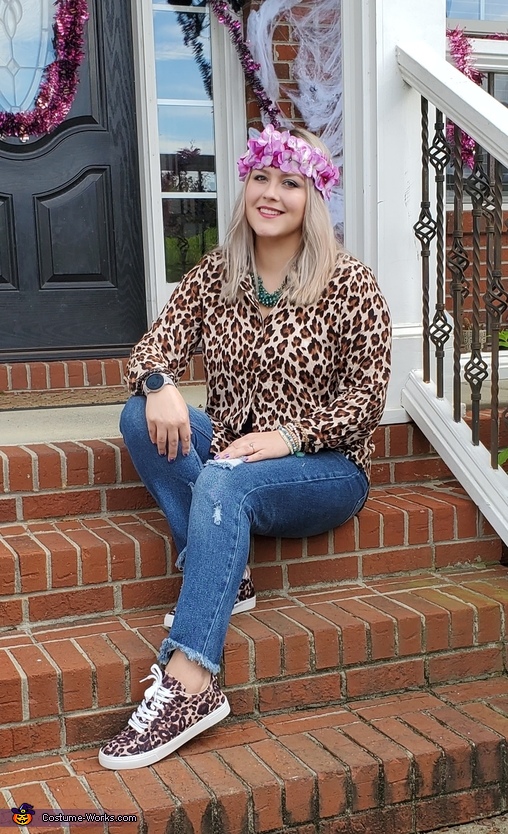 Carole Baskin Costume
More views:
(click to enlarge)
A word from Samantha, the 'Carole Baskin' costume creator:
So this year I actually wasn't planning on dressing up. It wasn't until 6:30 pm October 30th when I decided to be Carole Baskin. When I start planning my Halloween costumes I always try to think of something that will give people a good laugh!

So crunched on time I get in my car and fly to Tj Maxx praying that they have cheetah apparel. Sure enough I found the perfect pieces. $16 for the cheetah print button down, $16 for the jeans and $30 for the cheetah print shoes. Then I rush over to Michaels and grab the supplies to make my flower headband and my BF's shirt. All in all the Micheals trip came to $36. For my head band I hot glued purple flowers to a piece of white ribbon. For my Bf's shirt I hot glued the lettering on and added the Tiger Kings signature mustache that I drew and cut out of a piece of foam sheet.

After completing everything and trying on my costume I felt like it was good but not good enough. So the very next day I run out to Walmart and picked up some final touches. I picked up different flowers. I wasn't happy with the shade of purple or the look of the orginal flowers that I picked. I was so happy I changed that! I also picked up some jewelry that I felt closely resembled the jewelry Carole Baskin was wearing in the photo I was using as reference. I wanted to be as authentic as possibly. I even wore my smart watch as she was wearing one as well.

All and all I was very happy with the results!
Hope you all enjoy!