Captain Jack Sparrow Costume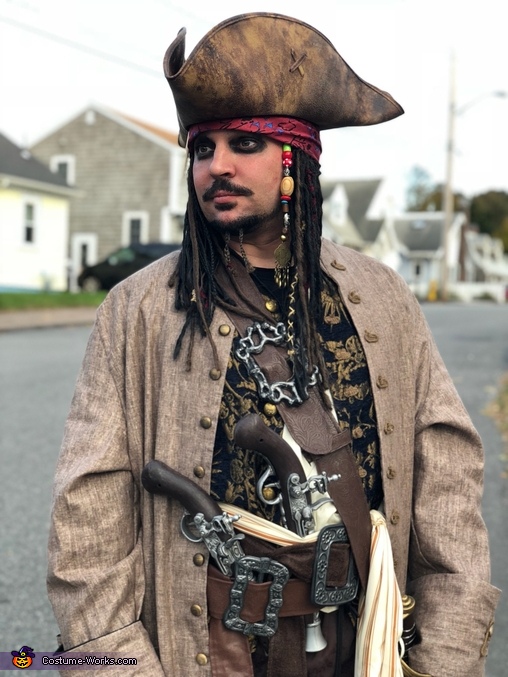 Captain Jack Sparrow
More views:
(click to enlarge)
A word from Bryan, the 'Captain Jack Sparrow' costume creator:
The clothing and belts are from what is sold as a "Deluxe Jack Sparrow" costume. The cheap plastic buckles were filled with casting resin and then backed with craft foam to give them stability. The sword, compass, and rings are part of an accessories pack, while the flintlock pistols were purchased separately. All of these accessories were weathered with black paint wash and then dry brushed with metallic silver for highlights.

The included wig was a stringy, thin mess, so I found a more realistic version on Amazon, which came with a bandanna and some beads. I braided some of the "dreads" and added wrapping to others using twine, as well as cloth strips cut from the cheap wig assembly. The sail needle also needed work, as it was just a chop stick, so I made a better version out of scrap poplar – shaped with a 1" belt sander. The included hat was floppy and way too small, but I found a faux leather version, which just barely fit over my wigged head.

Jack Sparrow's sinking sailboat was built from scratch. The mast components are PVC pipes – 4" for the vertical, 2" for the horizontal, and 1" for the flagpole. The block and tackle, as well as the crows nest, are all made from EVA foam floor mats – glued together was Barge, heat sealed with a heat gun, and painted with Plasti Dip. The rigging was done with 100 ft. of 1/2" sisal rope. Large binder clips are integrated into the rope coils along the horizontal pipe and those are what secure the sail, which is actually a canvas drop cloth. The flag made from cotton shop rags, hot glued in series, and colored with red and black spray paint.

The boat dock is a shipping pallet, which incorporates two important features. First and foremost, a pedestal for the Halloween candy, which sits protected in a treasure chest. Second, a vertical post … to heed a warning sign for all pirates, as well as lights for when the sun is lost. The treasure chest is made from EVA foam and painted with Plasti Dip overall, metallic iron for the banding, and then dry brushed with metallic silver for highlights. The warning sign is just a few pallet slats – glued together, weathered, and painted with acrylic black and then white for the lettering.

I have a local reputation for my Halloween efforts, so some people make a trip to the neighborhood just to see spectacle - and take pictures. A few small children cried briefly, others were thrilled to see Captain Jack ... one even insisted on being aboard the ship for his photo op. Then there was the Mini Captain America who couldn't decide if we were friend or foe.