Captain Jack Sparrow with The Black Pearl Costume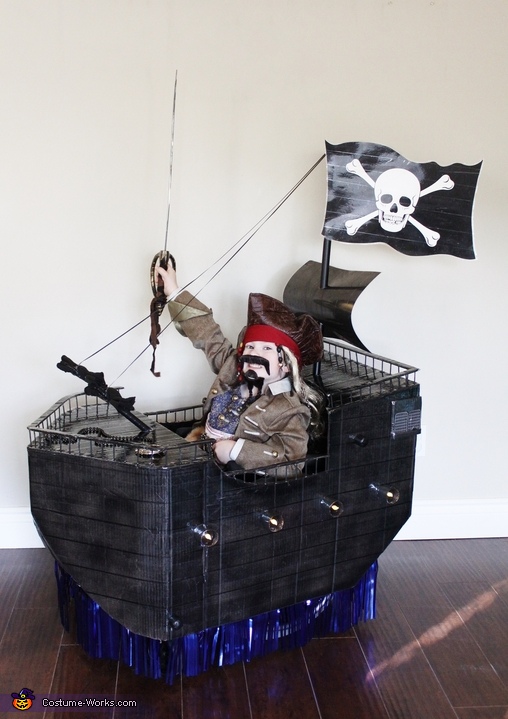 Captain Jack Sparrow
More views:
(click to enlarge)
A word from Leila, the 'Captain Jack Sparrow with The Black Pearl' costume creator:
This costume was made for our son who wanted to be Captain Jack Sparrow with his ship, The Black Pearl. It is a wheelchair costume and I built around it. I cut and made everything out of cardboard. For My son`s wheelchair costume, I painted it black and then used painters tape to create the "wood lines".

After that was dry, I cut toilet paper rolls to create the cannons and painted them black too. I bought battery t-lights and put them inside of the cannons to make it look like the cannons were firing.

To create the railings, I used bamboo skewers for the posts and cardboard for the railings. Again, once everything was in place, I hot glued it to the ship and painted it. For the Sail, I found a paper "Pirate Flag" at a local party store (which was VERY convenient!). For the sail, I used a 12"x12" scrapbook paper and cut two circles in it. I then put it through the handle for his wheelchair.

I also used a blue shimmery decoration that I got from a party store for the bottom of the wheelchair so it would look like the boat was in water. For that, I just taped it to the inside of the boat.

Because it rains a lot where we are, I used clear packing tape to cover the entire costume so it wouldn`t get wet.

I bought his costume (outfit, hat, beard, moustache, sword), I bought those at a local store nearby.