Captain Hook Costume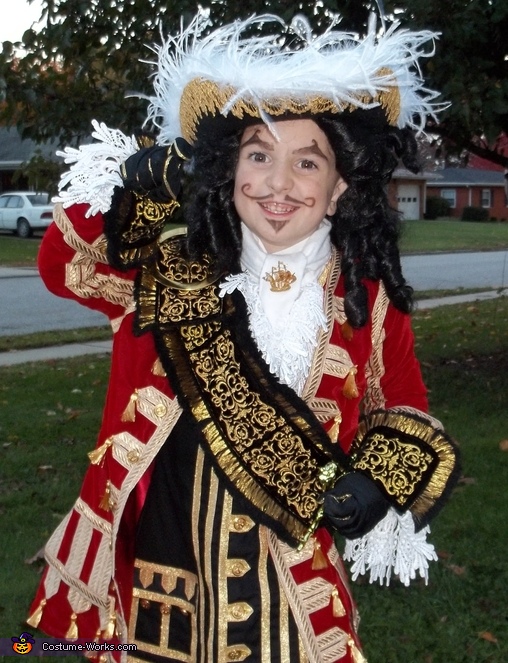 Captain Hook Costume
More views:
(click to enlarge)
A word from Teresa, the 'Captain Hook' costume creator:
This was a Hook Costume I made for my son. I tried to replicate it from the movie Hook with Dustin Hoffman.
I used velvet for the jacket and a TON of hold trim. Cotton for black under vest. Gold metallic tassels and even gold buttons with little anchors on them. I found a child tricorn felt hat. I added metallic gold venise lace and ostrich feather boa to the hat. I embroidered the baldric for the sword myself took over 18 hours on my home ebroidery machine. Used metallic gold thread. Bought the plastic sward but had to cut it down to fit his size. Bought the pirate boots to complete the look. (and the little girls costume wig) Made the gloves from black spandex and black velvet and embroidered those as well. Added gold trip to the edge of the gloves and the fringe on both the baldric and the gloves are actually black cotton fringe and send metallic gold fringe I mixed together.
Took me 2 months to find a gold trim with a rope design in it that I wanted to use for this costume. Lots of research and look for the fine details for materials I wanted to use.