Captain America Costume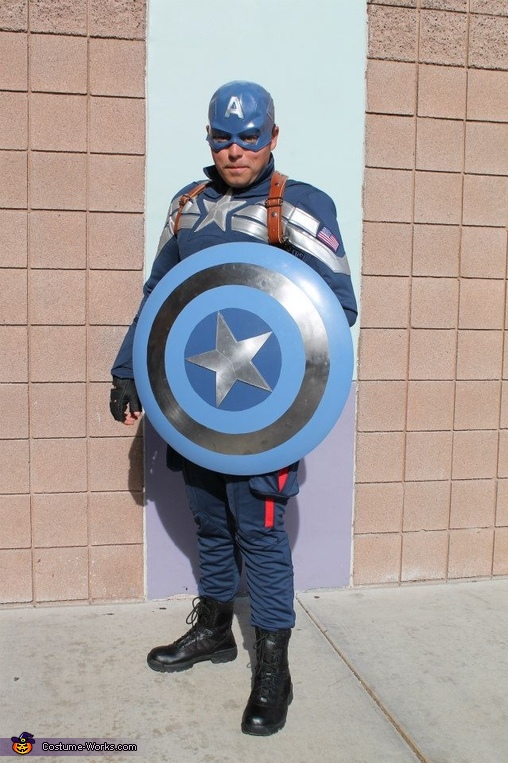 Cap at School!
More views:
(click to enlarge)
A word from Jesse, the 'Captain America' costume creator:
Halloween is my favorite holiday of the year. My mom has always decorated the house to the extreme, which caught my interest. As I got older, I became consumed with having movie accurate costumes. Now that I am a P.E. teacher the kids at my school get a kick out of my costumes especially since they are usually super heroes. This year, I wanted to do something with one of my favorite heroes, Captain America. After watching the latest movie, Captain America 2: Winter Soldier, I instantly knew that I wanted to make the stealth suit as accurately as possible, along with the accessories.
Making this costume was quite tricky. I employed the help of my mother-in-law to help create a pattern based on pictures and to sew the suit together. Within the suit we added a secret compartment to hide my insulin pump, but still keep it accessible so I can still manage my sugar throughout the school day. I bought a sled that I stripped the paint from and then I painted it to look like the stealth version of the mighty Cap's shield. Along with the suit and shield, there are a bunch of leather accessories. I went to numerous leather stores in my town to find the correct leather to make a harness for the shield to hang on, the straps for the shield, and a utility belt. I cut the leather, sewed it together to achieve the thickness and width I desired. I broke a few needles during the process. This process was far more frustrating than I anticipated because I am not familiar with this medium. Punching holes and adding snaps through the leather is difficult and dangerous. However, making the accessories myself, definitely made it more memorable because I knew what I wanted them to look like, especially the smashed fingers and broken needles. Making this suit as accurate as possible was awesome because I received a lot of reactions from everyone I passed when I was wearing it.
The reactions I received while wearing the suit made all of the time and money put into it worth it. First, I went to my mother-in-law's school, she teaches first grade, on October 30th since we had no school on Halloween, so Captain America could meet her students. I took pictures with each student and the look in their eyes was of pure excitement and joy that they got to meet one of their heroes. Afterwards, I went to my own school and my students, the entire school, where they were surprised by the accuracy of the costume. I had been keeping them on their toes the last few weeks through some of the clothes I wore, which featured various super hero logo's. At the beginning of the week I even shaved my facial hair to match Tony Stark's to throw them off my tracks. When it was finally revealed that I was Captain America the children were so surprised and amazed. Some of the younger ones even thought I was the "real Captain America." Similar things happened on Halloween. I stopped by the local mall to run an errand while in costume and numerous kids waved and shouted, "Hey Cap!!" I was overjoyed by the reactions of the kids, but was so surprised by the reactions of the adults. When at a costume contest on the strip many adults would ask to take a picture with my girlfriend (Black Widow) and I because of the costume. I was pleased that the costume was received so well. Except at the contest, it was not ten feet tall with flashing lights or smoke coming out of it, but it was movie accurate and completely homemade.
I am very proud that I was able to create something that was accurate and fascinating for a wide audience of people varying in age. Also, this project allowed my mother-in-law and I to bond, since we went together for all of the shopping trips for supplies. We also did the work together. She even saved my life when I stripped the paint from the sled that became the shield and the paint stripper exploded, burning my face and arms. She called poison control to make sure I was not going to lose my vision. Really, this Halloween brought us closer together and allowed me to be a hero in the eyes of many for a few days. I can't wait for next year!