Cactus Cutie Costume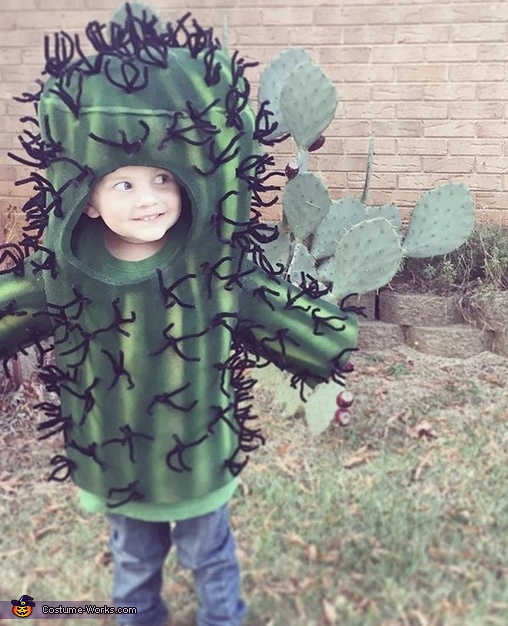 With an actual cactus
More views:
(click to enlarge)
A word from Samantha, the 'Cactus Cutie' costume creator:
This is our 3 year old son JD. He insisted on being a cactus for Halloween. We tried to change his mind offering up ideas such as super heroes and other little boy favorites. He wasn't having it. He said he wanted to be a cactus so he could "poke errrbody". I quickly searched for a cactus costume knowing I'd probably be making this one. I was right.
Using foam from the craft store I cut and shaped a dome type body piece that slid down and sat on his head. I cut out holes for the arms and his face. I then shaped arms and attached everything using a needle and fishing wire for durability. I then spray painted it as a cactus using a dark green, green, yellow, and brown combination. After drying I went through poking what seemed like a million holes with a x-acto knife. I then cut black pipe cleaners into four equal parts. Took two of the four and crossed them, then pulled them through two of the holes. When the pipe cleaners were through I twisted the two pieces together.
I then took a big plastic planter and put four holes into the top (two in front, two in back). I used ribbon to make suspenders. My husband used a jig saw to cut the bottom out so our son could stand in it. (Made sure to sand down jagged edges).
The cactus costume was finished! I bought a smaller pot for him to collect candy in. I found a similar pot on Pinterest with the quote "Prick or Treat". I put that on the pot.
Everyone loves our little cactus!