Cabbage Patch Doll in Box Costume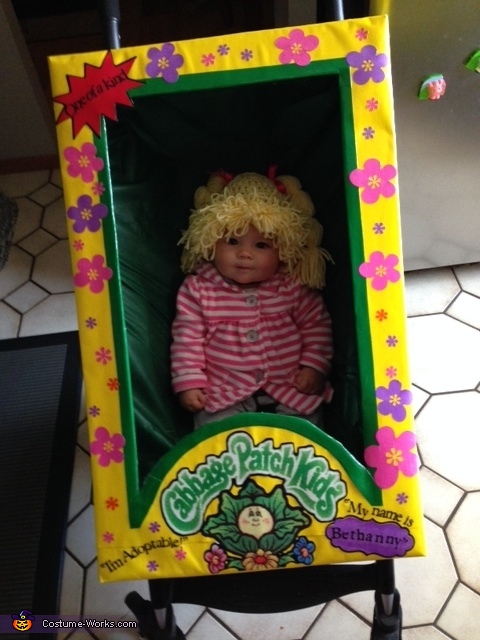 Final Product!
More views:
(click to enlarge)
A word from Karen, the 'Cabbage Patch Doll in Box' costume creator:
My daughter, baby Bethanny is wearing the costume. The idea came from my cousin who sent me a picture she saw of the same costume - It was too cute not to copy.

I had youtube teach me how to crochet a beanie :) that I then attached yarn to make pig tails and bangs to complete the wig. It fit over a light toque, so that was perfect for Calgary, AB's chilly Halloweens.

Then I took two boxes and in one, cut holes for the stroller handle bars to go through allowing the the desired depth to the box - and then trimmed the bottom of that box to marry up with another trimmed box to make it look like one box.

I then cut out the "window" for the box.

I covered the box in yellow poster paper and green poster paper for trim around the window.

I printed a cabbage patch logo off the internet and glued in place.

Using a cricut, I cut lettering and decorations for the box, gluing them in place.

To give the box some shine, I modge podged the entire outside of the box.

I put the box in place on the stroller, and then glue gunned a vinyl green table cloth to the inside of the box, leaving lots of sag to allow for the baby to sit in her seat. I cut holes in the cloth so the straps for her stroller could pass through.

I placed baby in wig in the box, wearing a cute outfit she already had, and volia!

Cost was approx $25 and including learning how to crochet (painful process) took me approx 22 hrs in total time spent on creating this costume.