Bumblebee Costume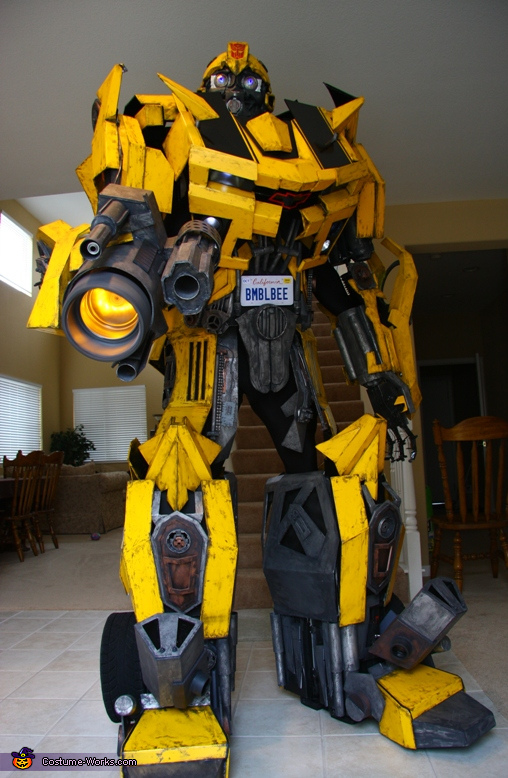 Bumblebee hanging out in my living room.
More views:
(click to enlarge)
A word from Greg, the 'Bumblebee' costume creator:
Happy Halloween, everyone! I have always been a fan of Transformers, so I thought I'd make a Transformers costume. I constructed my Bumblebee costume by creating a wooden skeleton over a hiking backpack frame to support the torso, and used mailing and carpet tubes on wooden frames for the arms. The head rests on a bike helmet that sits on my head. To replicate the blue eyes, I placed the gems from novelty rings and lights wired to a battery pack inside clear spherical Christmas ornaments. Bumblebee's cannon spins and lights up, thanks to a modified drill rigged to an LED array and switches inside the arm.
The toughest component was the legs, which needed to be flexible and sturdy enough for me to walk safely. I bought drywall stilts on eBay, reinforced them with wood, and placed hinges on the ankles and feet to allow for a range of walking motions. To finish off the look, I hand-cut pieces of the armor plating/body panels from foam board, coated them in vinyl appliqué, and painted them. I even added scratches and blemishes to show a Bumblebee hardened by battle with Decepticons!
Bumblebee stands just under 8 feet tall and took 400 hours and cost about $2,500 to build. Here are a couple photos of me wearing the costume, as well as a photo of Bumblebee during the construction process.